Featured Home Theater System: Chris M. from Grand Prairie, TX
Chris M.

in Grand Prairie, TX

Starting his audio journey as so many others have, with an immersive Star Wars and rock concert (Metallica) experience, Chris M. never imagined his passion for sound and audio set-up would evolve into a 9.2.6 SVS Ultra speaker and dual subwoofer system. As the personality behind the popular Youtube channel "ThatHomeTheaterDude", Chris has invested much time and effort helping others discover their passion through his straightforward reviews and useful set-up videos on everything from building acoustic room treatments to mounting Prime Elevation speakers. Learn about his take on mixing dual subwoofers, ceiling bounce vs. direct radiating Dolby Atmos speakers, Prime Pinnacle vs. Ultra Tower speakers and more in the following profile.
The Setup:
Denon X4400H AV Receiver
Parasound A31 Amplifier
Arcam p1000 Amplifier
Panamax M5300-PM conditioner
Epson 5040ub 4k Projector
144 Inch 2.35:1 Absolute Cinema Black Projector Screen
4k Apple Tv
Xbox One X
Questions And Answers:
When and why did you first start getting into high performance audio?
I have always had an ear for music and sound. It started when I was about 10 and I remember setting up the old heavy floorstanding speakers around the couch to watch Star Wars. There were wires all over the room, but it was audio heaven. As a teen I really got into music. I went to a Metallica concert when I was 13 and ever since then, I was always listening to music on my CD discman. In high school I was so inspired by music I investigated the audio engineer path, but I found my calling in the U.S. Marines instead. Years go by and I still have my interest in sound. It was reawakened while watching Guardians of the Galaxy Vol. 2 in Atmos at the Dolby Cinema. I left there amazed and ready to start building my own, the right way.
How did you first hear about SVS?
I was at a local AV store shopping for speakers and I asked the guy about Brand X subwoofer. He said that they were nice, but if I wanted theater quality bass then I should consider SVS. He did a demo with Brand X then redid the same demo with the SVS SB-2000. Instantly, I was hooked. I could see why he praised them so much. The next subwoofer I bought was an SVS sub. As my system grew, I have been buying higher and higher models ever since.
What was the most important and/or noticeable upgrade you made to your home theater?
I would say the Ultra center and the PB-4000 were my favorite upgrades. I had a full on 11-channel Atmos home theater with a very popular copper coned speaker brand and I thought I was done. After going to an event at Starpower in Dallas, I heard the Ultra Speakers in person. I knew SVS was the authority on subwoofers, but I had no idea that they even made speakers. After hearing the demos, I was blown away. The center stood out the most because of the realistic and precise sound recreation. The center channel speaker is the keystone that makes or breaks a setup because most of the dialog originates from there. The crossover points were amazing and did not cause any ear fatigue upon listening for hours on end.
I was thoroughly convinced then that I needed to reevaluate my speaker setup at home. Best thing was the wife was there and she noticed the increase in sound quality too. That made the switch even easier. After leaving I started buying SVS Ultra speakers and slowly sold my other set. In addition to the Ultra Center, I started with the PB12-NSD subwoofer. It was an outstanding sub but, the 4000 series just came out and I noticed that no one had done any reviews or had testimonial with them. I ordered an SB-4000 to share my experience with the subwoofer with everyone. I loved it and got bass fever. I traded in the SB-4000 for the PB-4000 and then that's all she wrote. I have been sharing my testimony ever since.
How would you describe the impact of adding a PB16-Ultra Subwoofer to make duals?
Adding the PB16-Ultra to my PB-4000 was a night and day difference. I thought I had everything sorted and dialed in, but when I added another subwoofer to the lineup, all of the gaps that I didn't even know where there were filled. The bass was thick and authoritative, but never boomy. The common misconception is that when you go with bigger or multiple subwoofers, that it will become obnoxious. This is analogous to the car bumping bass that can be heard for blocks away. Simply put, that's just not true.
Also, two subwoofers don't necessarily double the loudness. In actuality you may notice playing the overall volume of the system quieter because of the increased efficiency of two subs. Transients, or speed of delivery, did not suffer either. I figured there would be some tradeoffs, but I never noticed any. It could be whisper quiet bass then explosive and then back to a whisper in an instant. The PB16-Ultra digs deep and doesn't let up even when it goes below what you are able to hear. I have two different subwoofers I use on a daily basis. Even though they are two different models they still play well together. I haven't noticed any problems in phase or performance using these two. I think since they are so similar in terms of construction and performance that they complement each other. I do plan on upgrading to a second PB16-Ultra later this year.
Why did you choose Prime Elevations for height effects and what was the result?
I had some ceiling bounce speakers and even though I had the ideal environment, I was never impressed with their performance. The object based surround sound effect recreation was ok at best. Again, I looked to SVS for the answer and I noticed they had the Prime Elevations. I liked how versatile they were for mounting options, so I thought to give them a try. I installed a single pair at first and mounted them up high on the wall firing towards the main listening position. After reconfiguring the settings in the AV Receiver, I played a few more demos and I was taken aback. I finally had Atmos!
The difference in sound was easily discernable. The Prime Elevations proved to be a game changer as Dolby Atmos speakers, so I bought another set and wired up the voice of God for Auro-3D. I changed the configuration later to all 4 Prime Elevations being hung on the ceiling to mimic in-ceiling speakers. I like how you can mount them on the ceiling without the commitment of cutting massive holes into the ceiling. The top mount option leaves a small footprint and it's reversible compared to in-ceiling speakers. I can't wait to buy my 3rd set for a 9.2.6 setup.
What are your impressions on the Prime Pinnacle speakers vs. the Ultra Towers?
I have had the Prime Pinnacles in the house for the last few weeks and I have been using them daily to open them up. As with most speakers, when you hear them in the showroom they always sound amazing. I use the in-home method as the standard to judge a speaker. You never know what a speaker will sound like at home until you do just that. I have heard the Prime Pinnacles several times in different locations before their release and I was thoroughly impressed each time. Bringing them home and plugging them into my system, proved that they really do sound as good as the showroom. I have had my Ultra Towers for just about a year; so I know their performance very well. After plugging the Pinnacles in I thought they would sound great, but I did not know how close in terms of sound recreation they would be to the Ultras.
The mids and highs are clear and shine very well without being harsh on the ear. The mid bass and lower frequencies are represented very prominently as well. As compared to the Ultra towers, I would say that there is a slight trade off. With the Pinnacle Towers you gain a great set of speakers with a small footprint that fit into anyone's environment, but you do that by losing a smidge of the super low frequencies. Again, this is compared to the Ultra towers. In their own right without being compared, they are amazing speakers. For most people's environments they can get SVS Ultra level performance at a lower cost and a smaller footprint. The Ultra Towers perform exceptionally well, especially with the addition of external amplification and the need for a larger footprint of the speakers. This refers to the general size and also the space requirements to be free around the speaker to allow it to breathe for optimal function.
Why is having an immersive home theater important to you?
Simply put, I love sound. I have a critical ear and this level of performance is as close to the cinema experience without leaving the house. The best thing is that all of this is attainable. Proper setup, calibration, and tweaking can be done by anyone granted they have the time to do so. SVS has proven to be a game changer from the first time I heard the subwoofer in person and then again when I heard the whole Ultra system fully setup. All of the subwoofers, speakers and components were designed to work optimally when used together. You can absolutely mix and match your speakers and subs, but when you decide to go with one brand, you know that the whole set was designed to be used as a cohesive unit. This translates into jaw dropping bass, realistic speaker sound recreation and other components that help optimize your setup. I am so glad I wondered into that AV store. After hearing for myself how great these products were, I was transformed back to that 10 year old watching Star Wars in the living room. The excitement never died and now I get to have what I dreamed about as a kid.
The last thing I will say is that I really like the direct sales model and cutting the middle man out. I like choosing what's best based on my own research and not because of what a salesman recommends. Plus, I firmly believe it's driven the cost of getting into high-performance audio down, which is good for all of us, so I give props to SVS for helping change things.
Anything else you'd like to share with the SVS community?
Hello! Most of you know me as That Home Theater Dude on YouTube and social media. My name is Chris Mata and I live in Dallas, TX. I started a YouTube channel with the goal to share my experience and testimony with everyone. I remember what it was like starting out in home theater. It sounds complicated and overwhelming. I vowed to help out as much as possible. That's why I do videos geared towards home theater setup, optimization and also product reviews. I talk about the things that I do because I believe in them. If you have something that is truly exceptional, you like to tell your friends about it. People that follow me know my character and know that I'm in this for you all. I'll be around for the foreseeable future helping out where I can, answering questions, and making videos to help my viewers. I invite everyone to follow me on YouTube, Facebook and Instagram. If you ever have questions, I am only a click away.
Browse Other SVS Featured Systems.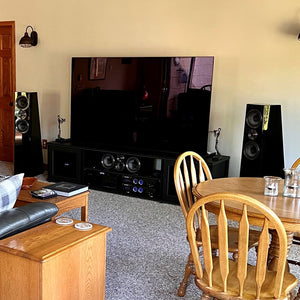 SVS Featured Home Theater System | Mike E. from Calumet, MI
Mike from Calumet, MI As a former music teacher, Mike E. fr...
Read More