Featured Home Theater System: Jermaine in St. Louis, MO
Jermaine

in St. Louis, MO

When you've spent eight months researching the perfect subwoofer, chances are you've left no stone unturned. When Jermaine from Ohio decided to upgrade the bass in his basement home theater, he consulted social media sites, user reviews and every possible piece of information he could find to make sure he was getting the best possible subwoofer experience.

The end result was a pair of SVS PB-2000 subwoofers that added a level of sonic impact and feeling he and his wife had never experienced with any of his previous subwoofers. Now, when game or show time rolls around, his family and neighbors are fighting for a seat on his couch.
The Setup:
Panamax MR4300 Power Conditioner
Monster MP HDP 1250G+ Power Conditioner
Apple AirPort Extreme
Netgear Prosafe FS108 8-Port Fast Ethernet Switch
Receiver: Yamaha RX-A840BL
Projector: Epson 5030UB
Bluray player: Kaleidescape M500 player -Media Storage server: Kaleidescape 1U server -Apple TV
Sanus NFA245 Component Rack
Klipsch RP-450C
Klipsch RP-280F(2)
Klipsch RP-250S(2)
Klipsch RP-150M(2)
PlayStation 4
Remote: Logitech Harmony Ultimate remote
DirectTv Genie
Questions And Answers:
What made you decide to go with SVS subwoofers?
It was a really hard decision. I'd been looking at SVS for years and heard lots of great things about them, and I also belong to a few home theater groups on Facebook and everybody who owned them had nothing but praise. So when it came time to upgrade my system, I read a lot of reviews and feedback about how they can be life-changing in an audio system. I was really going back and forth for a while on whether I should stick with Klipsch for the subwoofers. It literally took me eight months of research, but reading how much pride SVS takes in its product line, and all the helpful info on the site, plus the fact that you guys took the time to make sure I got the right product and not just the most expensive thing I could afford, that goes a long way. And then your warranties on top of that and the option to upgrade within a year where you'll match the price and I just have to pay the difference. I thought all that was phenomenal and not something other companies offer.
What about the choice to go with dual subwoofers?
Believe it or not, my initial decision was based on the fact that I just wanted to have the visual balance with two subwoofers in the front stage, plus my receiver at the time had two subwoofer outputs. I really didn't do much research and I just assumed it would be much louder. And then I started looking into and I realized it helps deal with nulls and evens the bass out so you don't have hot spots and dead spots. I have a sectional, and once I got it calibrated, you can sit pretty much sit anywhere now and get the same bass response throughout. It makes a huge difference in terms of creating an immersive movie experience.
And believe it or not, I've had to put my plans on hold to build a deck for my wife, but I'm actually going to upgrade to four subwoofers in the near future because I've learned that's how you get the best bass experience possible.
What was the impact of adding the PB-2000 subwoofers to your system?
Everybody in my home theater forum groups told me when you get nice subwoofers, one of the great movies to check out is Pacific Rim, specifically for the lows. I put it on for my wife and she's by no means technically inclined, and could care less if I had a soundbar or an Atmos system with 11 speakers, but when she heard the subs, she was literally blown away, not only by how much cleaner it was compared to my previous "boomy" sounding subs, but also by how much she could just feel the bass, which, of course she likes. It provides such a realistic movie experience and it just completely elevated my home theater to a point where I'll only buy SVS subs now.
Why is having a home theater important to you?
I'm a huge movie buff and movie theaters are expensive and inconvenient, and I have younger kids, so having a home theater is important because you can bring the family around and not have to worry about anything. I have a two-year old daughter and she can't really sit still long enough to go to a movie theater and it's cool, because she loves it just as much as I do.
I also pride myself in having one of the nicer systems in my neighborhood, and it's such a great experience watching games and having people over. I can't get to as many games as I'd like, so it's really cool to bring that experience home by cranking it up and recreating the ambiance of actually being there. I'm from Northeast Ohio and had a bunch of people over for game 7 of the NBA finals recently and I completely lost my voice, and the excitement was just surreal, and the audio definitely helped give it that extra bit of energy.
When did you start getting into audio? Anything or anyone in particular help stoke your passion?
I've always been a huge music lover as long as I can remember, but I really got into audio pretty young, around the age of 12. My mom went to a garage sales and got me a stereo system that had a tape deck on it, a five-band EQ, record player and it had two tower speakers. And it's funny, because I used to go to other yard sales and just look for speakers because I thought the more you had meant the better it would sound.
And then I got my first "real" home theater system at around 15, which was an RCA surround sound set-up, and since then, I've just always owned one. I also had an Aiwa bookshelf system, which was like the first Dolby Digital system they offered, then a Yamaha home theater in a box after that. When I finally got out of college, I got what I thought was my dream Bose system, and it was alright, but never quite gave me the type of home theater experience I was craving. After that point, I bought my first Klipsch speakers and have been using them ever since.
Anything else you want to share about your experience with SVS that others visiting the site would like to know?
If you have no knowledge or experience with home theater, but want to take the next step, I would definitely recommend reaching out to SVS because they're very knowledgeable and will do everything possible to find a product that works for you. They'll walk you through every step and really focus on your individual needs, not just trying to sell you the most expensive thing.
Also, the group I've involved with on Facebook is HomeTheaterEnthusiasts, so if you're looking for another good resource on speakers, subwoofers and all things AV, it's a good group to be a part of.
Browse Other SVS Featured Systems.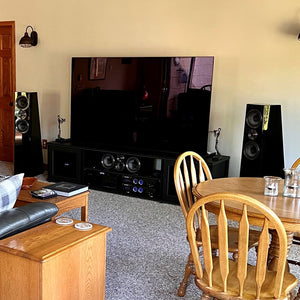 SVS Featured Home Theater System | Mike E. from Calumet, MI
Mike from Calumet, MI As a former music teacher, Mike E. fr...
Read More