SVS Feature Home Theater System: Eliott from Bolivia, North Carolina
Eliott

from North Carolina

After purchasing a retirement home to escape the New England winters, Eliott from North Carolina (and Connecticut), had a chance to build the home theater of his dreams. He had a vision for immersive Dolby Atmos surround sound and visceral subwoofer bass, but needed to stay on budget. After careful research, he found SVS delivered everything he would need and more.

Now, with custom acoustic panels, theater-style seating, and a surround sound system that would put most professional cinemas to shame, Eliott's biggest concern is whether his SB16-Ultra will shake his new home off its foundation.
The Setup:
SVS Prime Elevation (Rear)
2 Definitive Technology DI 8R Atmos in-ceiling speakers
Sony 85 " XR 95K Mini LED TV
Marantz SR 7015 AV Receiver
Marantz UD 7007 Blur-ray Player
Power Management Panamax M 5400-PM
AVR cooling AC Infinity Aircom T8
Streaming Apple 4K
Blue Jeans Cable, & Audio Quest, 14 gage speaker wire
Seating 6 Valencia Tuscany leather
Sound absorption panels Acoustimac Eco Core Insulation
Fabric movie acoustic panels printed by a Canon large format printer
Salamander Center channel speaker cabinet
Questions And Answers:
How did you first hear about SVS?
I first heard about SVS when my 5-year-old Boston Acoustics Subwoofer died and I ventured off to Best Buy to find a replacement. After checking out every sub in their high-end Magnolia showroom, it was an easy decision to go with the SVS SB16 Ultra. It was a perfect complement to my existing home theater.
What was the impact of upgrading to SVS Ultra speakers vs. what you had previously?
Two years later we began planning to build a new vacation home in North Carolina and as a retirement gift to myself decided to add my dream theater, designed from scratch. The speakers are the heart and soul of the system and choosing the right brand was a critical decision. After extensive research I landed on the SVS Ultra Series. Quite frankly, I was never happy with my Bowers and Wilkins HTM 71 S2 center channel (the voices were always too harsh for my taste). The SVS Ultras were clear, smooth, complimentary, realistic, and blended well together.
Why is having a subwoofer important for home theater?
The theater experience should be fully immersive in both sight and sound and the Subwoofer is a key component that adds impact, fullness, and a sense of realism. When a car blows up in a James Bond film I want to see, hear, and feel it just as 007 would as he narrowly escapes.
What have been your impressions of the SB16-Ultra subwoofer as part of your listening experience?
I listened to all the SVS subs one more time and chose the SB-16 Ultra. Since I already own one, I was confident it would be a great match in the new theater room. t is a beast that faithfully delivers a full immersive cinema experience (subtle at times, slamming when needed). I love sci-fi and action films and the SB16 Ultra delivers the punch and realism the film's director intended.
Tell us about the custom acoustic panels? Where did they come from and how did you choose the visuals?
Since the theater room colors are rather dull and muted, I wanted to have a striking visual "Wow" that defines the room. Naturally, I choose films that are some of my favorites. The acoustic panels are home made using 1x3 lumber, and a few tips from YouTube. The acoustic material is 2" thick Acoustimac Eco core sound absorption recycled cotton. The acoustic panel posters were printed by Canon on fabric with images I downloaded from Moviemania. My wife did all the precision work to stretch and attach the fabric to the wooden frames. This was actually the hardest part to get right.
Why is having a high-performance home theater important to you?
I have always enjoyed the movie theater experience and was fortunate enough to spend part of my working career connected to the film and TV production industry. I learned so much and came to really appreciate the talented people involved in the film production ecosystem. With this love for the industry, faithfully replicating the optimal theater experience (within my budget) was important to me.
Any specific recommendations for movies or music that make for a great demo?
I have my go to library of favorite films and clips that showcase our theater room. Mad Max Fury Road, (almost any scene), Top Gun Maverick (last 20 min), Kingsmen Golden Circle (Elton John scene), Yesterday (great music sound track), Fury (tank battle, great Dolby Atmos effects), Ballad of Buster Scruggs (Surly Joe bar room scene, just funny), War for Planet of the Apes (explosions and avalanche scene truly showcase how much realism the SB16 Ultra can deliver).
What were the greatest challenges when setting up your home theater and how did you overcome?
Since it was a newly designed home, I had to use my imagination for the look, visuals, sound, video, functionality, and seating. I planned all the speaker, HDMI, Ethernet, and AC wiring for the builder. I had him add a wire and cable management closet connected to the rack of components in order to minimize visible wires. Also, I planned unobstructed access to the rear of the AV components for easy speaker connections, changing HDMI cables, and maintenance. I also added a 2" PVC conduit pipe between the TV, AVR, and router enabling an easy pull through for new HDMI cables if an upgrade is ever needed.
Any additional insights you would like to share with the SVS community?
First and foremost Thank You to the SVS technical support team. Top Notch! SVS has industry leading education, service and technical support. In my opinion, no other company in the universe of AV comes close. My investment in this project was significant and I am thrilled with the result of two years of planning and construction. Now I just hope my SB16 Ultra doesn't shake my house off the foundation!
Browse Other SVS Featured Systems.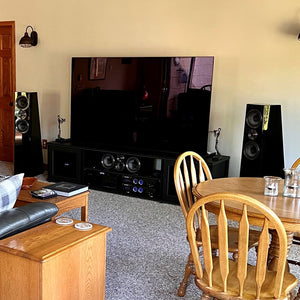 SVS Featured Home Theater System | Mike E. from Calumet, MI
Mike from Calumet, MI As a former music teacher, Mike E. fr...
Read More