SVS Featured Home Theater | Ashby from Rio Vista, CA
Ashby

from Rio Vista, CA

"When your pants start fluttering, you know you did something right," is perhaps our favorite quote from an SVS subwoofer owner this year. In this featured system, Ashby from Rio Vista, CA talks about his journey into high-performance audio and how the SVS Sound Experts helped stoke his passion for home theater while sharing knowledge on room correction, DSP and the more technical elements of optimizing sound.
The Setup:
LG C1 77 OLED
Denon Receiver AVR-X4700H
PS5/XboxSeriesX
Nvidia Shield Pro
PreAmp: Emotiva UPA-1 x 2
Emotiva XPA-2 x 2
Outlaw Audio 2200 Amplifier x 2
Polk L400 center
Polk R700 L+R Front soundstage
Polk R350 surround sides
Polk R600 tall boys rear surrounds
Polk R900 ATMOS, Fr Height R, Fr Height L, Side Height L+R
Questions And Answers:
When did you first get into high-performance audio?
My path to love the SVS product started after I returned from an overseas tour in Japan with little space and no real room for the love of sound. I moved back to the states last year and bought my first house. I started with some of the same equipment but no good room corrections and subs that were meant for very small rooms. The subs I had were BIC America F12 and they were great for what they were but were not what I thought bass was supposed to sound like. After I met my partner, she introduced me to her cousin who had the bug for sound as well and told me about this company SVS.
What lead to you decision to go with four SVS subwoofers?
I started researching and realized this company is so credited and the customer service is second to none. So around Christmas 2021 I just dove in and bought my first SVS subwoofer, which was a PB-2000 Pro, which I added it to the existing subs and was not truly happy with it. Then I stopped by Best Buy days before Christmas and saw they had a PB-1000 Pro and just went ahead and bought it so I could totally replace the F12's.
From there I immediately got the bug and went on the hunt. A month or so ago I found someone selling two PB16-Ultras and it was basically a steal so I jumped on it and to this day I have been tweaking and diving deeper and deeper into room corrections and EQ. These products are far above any expectations and absolutely a joy to have and a wonderful hobby to have.
Why are subwoofers and bass important in a home theater?
I believe that subwoofers and the bass they provide enhance the overall theatrical experience of a movie/music/games. They help you get immersed in the overall experiences. And when you feel your pant legs start to flutter you know you did something right.
What are some of your favorite movies and other content to show off for friends?
Some of my favorite movies to explore sound and bass with are Bladerunner 2049, Ready Player One, Brightburn, and all of the Star Trek movies. All with either DTS-HD or Dolby TrueHD. The combination of Dolby Atmos height effects and bass is amazing.
Did the SVS Sound Experts assist in any part of your journey?
The customer service is the best. I have talked to the same person at many points in time and the consistency with talking to one person makes the experience even that much more personable and enjoyable and they show they take care of their consumers. I will recommend this product over and over. And as I expand, I will eventually get all the speakers to be SVS, money permitting lol. All in all this experience has been absolutely amazing. Kudos to Ryan Wright for all the help.
Browse Other SVS Featured Systems.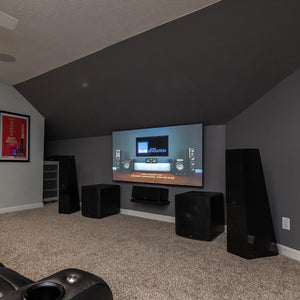 SVS Featured Home Theater: Kyle H. from Madison, MS
Kyle from Madison, MS Kyle from Mississippi has been on a j...
Read More