SVS Featured Home Theater System: Bernhard in Ann Arbor, MI
Bernhard

from Ann Arbor, MI

Classical musician and audio engineer Bernhard from Michigan used his technical knowledge and love of performing to create a one-of-a-kind home theater and music system. In it, a PB13-Ultra subwoofer fills the low end, complementing his DIY subs with even bass response throughout the large listening area. Heightening the soundstage is a pair of SVS Prime Elevation speakers, which greatly improved the "airiness" of the system and immersive sound coming from above.

Pulling from his vast knowledge and some help from the SVS Sound Experts, Bernhard was able to create a stunning multi-channel Dolby Atmos surround sound system with several unique features he uses to entertain up to 20 guests at a time with opera and ballet viewings. Check out his system and story below for a glimpse into what drive his passion for sound and how he's sharing it now.
The Setup:
Front Mains-- My design and build; triamplified. 1 dome tweeter, 2 5" midrange, 2 12" woofers each
Front Center JBL LSR308
Side Surrounds JBL LSR308
Rear overheads--8 small Radio Shack full range
Front overheads-- 2 SVS Prime Elevation Speakers
Main Subwoofers-- My design: 2 relatively small sealed boxes each containing 2 18" long excursion drivers moving in opposite directions on opposite sides of the box.
Supplementary subwoofer-- SVS PB13 Ultra subwoofer. This is controlled by DSP to fill in nulls in the listening area from the main subwoofers.
Supplied to the system through 2 independent 20 amp circuits. The self powered speakers are each in a different ordinary household circuit.
The main amplifiers are turned on by means of two Digital Equipment Company 877D relays which are controlled from the listening area.
1 professionally calibrated omnidirectional electret microphone
2 additional omni electrets calibrated by me against #1 mikes.
Computers running Spectra Plus to calculate and display microphone output.
Oppo UDP-203
Terk LFIRX remote extender
8 channel analog volume control, custom made
2 Crown IQ USM810 DSP units each 8 in 10 out. This unit does the crossovers and EQ for the main speakers, does EQ for all the other speakers as well, and does the EQ and timing necessary for smooth subwoofer response.
Sony VPL-VW695ES 4K projector
Da-Lite Contour Electrol 159" diagonal screen
1 Pyle PTA1000-- Main Tweeters
1 Behringer EPQ 450-- Main Midranges
1 Hafler DH200-- Main woofers
1 Behringer NU3000DSP
2 Behringer EP4000-- Muller Subwoofers
2 Pyle-- Rear and Front overhead surrounds
Center channel and side surrounds self powered
Questions And Answers:
How did the SVS Sound Experts assist with your project?
The suggestion of adding SVS Prime Elevation greatly improved the overhead sound and made Atmos reasonably workable in my environment. The benefits of adding the SVS subwoofer are listed below. I added the SVS subwoofer about 8-10 years ago, and the Prime Elevations about a year ago. I usually do a sound tweak every 6 months and combine that with a projector panel alignment and calibration. The SVS team also suggested replacing the obsolete rear overhead speakers with bipolar speakers for better spread in the back, a suggestion I completely agree with and will implement in the near future.
When did you first start experimenting with subwoofers, Dolby Atmos, and SVS?
The most successful subwoofer I ever had was two 18" drivers in the living room floor. The three-car garage below was the "sealed box enclosure", and the system basically went down to near DC. However, my insurance man came by one day and informed me that such a connection between garage and living quarters was against code and my insurance would be cancelled.
So, I got rid of that and pondered. I wondered if, given sufficient power, a very small box with two speakers inside could be made to work. The result: my present subwoofers. I knew Geddes idea of multiple subwoofers, and I already had two, but there were still some holes in the listening area. I knew of SVS subwoofers from Tom Nousaine and bought one. Playing with position, port blocking, EQ, and delay I was able to fill those holes and achieve fairly even bass over the entire area.
With the advent of overhead sounds with Dolby Atmos I contemplated adding some overhead speakers. Wife said, "not in my living room ceiling!" I saw an ad for the SVS Prime Elevations. I bought a couple and showed my wife what I planned to do with them. She agreed and I did the installation. According to all listeners, the overall sense of "airiness", and sounds coming from above were greatly increased. Another success!
Your home theater serves dual purposes, can you talk about how it gets used?
When the audience is just my wife and me, we use the living room mode and sit in the sofa. We wait until it is dark so do not need the window darkening. Yesterday evening we had 13 guests for a viewing of a movie of the ballet Sylvia. We have had as many as 20 guests driving as many as 60 miles for our Opera or Ballet presentations which occur every 3-4 weeks. No, we do not charge admission as these folks are all friends who share our interests, and there is no ballet or opera readily available around here.
What are some of the unique features of your home theater?
The whole system is turned on and off with a single button push, and I'll tell you how. The self-powered speakers are turned on via relays that are controlled from the main control area in the listening room. Since the self-powered speakers make a thump when powered on, there is a series resistor in the power line of each speaker which slows the power up process and eliminates the thump. This resistor is then shorted out after a few seconds by a time delay relay.
There is also an automated power strip that senses the OPPO current and turns on several outlets when the OPPO is turned on. One of these outlets powers a small power supply that sends current to the relays that power the self-powered speakers, and sends a signal which turns on the Digital 877D relays which power on the main amplifiers.
My Crown DSP units are professional and are designed never to be turned off. I have powered them using UPS so that if there is a power outage from the Edison company, they do not make a big noise in the system as it is powering down. (this happened once a few years ago, and blew out a tweeter, so, never again...)
When did you first start getting into high performance home audio?
I was born in 1939. My first memories of sound include a Silvertone 78RPM player. My parents were immigrants and loved classical music and opera so that is what our 78s were. We moved to a new house when I was 12 and I got a Webcor player for my room which did 45s and 33s as well as 78s. My high school friends were all geeks like I was, and a couple were Ham radio operators. I had no patience to learn Morse code as was then required for a ham license, so I built their Heathkit transmitters and modulators for them as my contribution to the group.
As a freshman in college (1957-58) I became aware of a fellow dorm resident who had a "stereo" system. I immediately set about adding another amp and speaker to my old device as well as a stereo cartridge that did not need a preamp. Of course, the two channels were not matched, but it was stereo! This "success" further stimulated a lifelong interest in electronics and sound. Soon I was building Heathkits for my fellow students and eventually designing and building my own electronics and speakers. I considered this a hobby and studied and worked at it intensively. But my college studies led in a different professional direction.
In 1973 my wife and I built our new house, and I designed what I thought in those days would be necessary for a good "listening room". I had Bozak speakers driven by tube amplifiers of my design using Dynaco output transformers. I had also designed and built my preamp and analog crossovers for what was by then a triamplified system. I started the audio build it yourself club SMWTMS in 1975 after reading an advertisement in Audio Amateur magazine suggesting such a thing. Discussions in this organization led us to develop the ABX method for verifying that a sound "difference" between item A and item B was real and verifiable.
My wife and I travelled extensively, and I bought a Sony CD player in Germany before they were available here in about 1982. That led to my studying digital sound technology. The membership of SMWTMS included such luminaries as Tom Nousaine, David Clark, and Earl Geddes. I learned a great deal from these individuals and implemented their ideas in my system. In the 1980s, David Clark and I began an experiment in surround sound and I designed and built a digital delay line to implement "surround sound" through widespread speakers and delayed signal to them. It was generally successful, and I used the idea until "genuine" surround became available. I retired in 1995 and took a job as chief engineer in David Clark's firm designing test gear for automotive sound systems from which I retired in 2010 when Clark sold the business to Alpine.
Why is having a high-performance speaker system important to you?
I play violin and viola in two local orchestras thus have many musician friends. I have occasionally over the past 30 years invited them over to hear some specific piece of music no matter whatever system I had in place at the time. They always said they liked what they heard. So, I have had groups over to listen long before I had anything to watch.
Since our travels include all seven continents and dozens of countries, and I am an avid photographer, I purchased a portable eight-foot screen and a portable projector about 15 years ago. I then started going to nursing homes, senior centers, churches, and schools showing 45 minute travelogues. I did this for several years, and occasionally set up the projector and screen in my living room to watch my own productions or show them to friends and neighbors.
At what point did you realize you could actually host gatherings around your home theater?
One day, I got into an argument with another orchestra member over the riot that occurred at the premier of Stravinsky's ballet Rite of Spring. I decided to buy a DVD of a well-liked classical ballet (La Bayadere), one of Stravinsky's earlier ballets (Firebird) and one of Rite of Spring. I was bowled over by Firebird and La Bayadere since I had never before been exposed to real professional ballet. And here, the only dance programs you get are modern dance which I don't much like.
Anyway, I showed these programs to my friends with such a positive response, that I expanded my collection, and started to show stuff which later included opera at a regular basis. My musician friends, as well as my engineer friends enjoyed these programs so I continued them. And, of course, the attendance got bigger as I improved things in sound and video to where I am now. I still have my eight-foot screen and projector, but have not gone out to public presentations in a couple of years.
Why is having an immersive audio system important to you?
I don't think I can add much to the excessively long and detailed report above. I love music, I love performing, I love socializing, and my system supports all of that.
What is your approach to measuring and adjusting speakers via DSP?
Generally, I use full spectrum pink noise as well as multitones, clicks, and sine, triangle and square sweeps. I measure all speakers at 1 Meter, and flatten their response there, except the center channel where I boost speech frequencies by about 2-3 dB. Then I look for peaks of response in the listening area when single or several speakers are operating. I do minimal correction of the peaks. I do not correct dips, except for the subwoofers where the SVS is assigned that task. The room is large enough, and dead enough that room anomalies are not a big problem.
Browse Other SVS Featured Systems.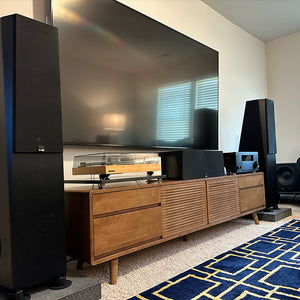 SVS Featured Home Theater: Dan C. from Cornelia, GA
Dan from Cornelia, GA Audio shows are the single best way t...
Read More