SVS Featured Home Theater System: Chad D. from Milford, MA
Chad D.

from Milford, MA

Raised with a 7.2 system in his childhood home, some of Chad D.'s fondest memories from his youth were spent with speakers blasting and surrounded by family and friends. After moving into his first home, he sought the same for his family and did copious research to ensure he achieved the absolute best audio performance for the price. He also wanted to support a brand who he felt shared his values and passion for audio. With eclectic listening tastes that span modern Hip-Hop and pop to classic rock and action movies, Chad blended SVS Prime and Ultra speakers with a PB-2000 Pro subwoofer to create a system that delivers in every way and now he's providing all the immersive, jaw-dropping sonic action for family and friends.
The Setup:
TV: 65" LG C9 OLED
Receiver: Denon AVR-X2600H
We stream most of our content here. With the ability to stream FLAC with Tidal and 4k with DD with Netflix, Prime Video, and Disney +, we don't have the need for other AV equipment right now.
Questions And Answers:
When and why did you first start getting into high-performance audio?
I fell in love with home theater at a young age. My dad always had 7.2 setup. I loved watching movies and feeling the couch shake from the 12" Kenwood he had hidden behind the sectional. Whenever my mom was out doing errands we would crank up the tunes or our video game consoles and become totally immersed in the action. To me, that's what it's all about. Some of my best memories involve family, friends, and music.
What was the impact of upgrading to the Prime Pinnacles and Ultra Center? How is the sound different than before?
To be honest, for most of my life I was raised on Bose. For what they were, they did a great job. They say the best speaker is the one you use all the time and growing up, that was Bose. When it came to finishing my own home theater after a basement renovation, I knew I wanted to go all out. This setup is actually the first that I have built on my own for my own home. Having the Pinnacles and the Ultra Center really make watching movies and shows a very immersive experience. The Ultra Center is just so amazingly clear with dialog and in your face action. The Pinnacles make great L & R channels and perform well no matter what I throw at them. They play all types of music really, really well. Everyone I put content on for is truly amazed and I wear a big grin every time I put the system on.
Why is bass important to you and how has the PB-2000 Pro transformed your system?
I know I've used this phrase already, but home theater is all about an immersive experience. To me, this just doesn't exist without amazing bass. The PB-2000 Pro delivers. For most music, it is clean and accurate and sounds great with every track. Playing bass heavy music, its house shaking. For home theater, it's perfect. It's bass you can feel and trust me, it satisfies. I also really love the app. Depending on what media I am enjoying and the time of day, it's nice to have total control of the sub in the palm of my hand.
You used the Prime Elevations as surrounds mounted on the back wall, what was the thinking there?
Originally, I had reached out to SVS and chatted with an expert. After discussing my system, I was set on getting the Prime Satellites for my surround channels. After sitting on this idea and staring at my walls (literally), I knew that wall mounting would fit the room best. I started doing more and more research into the Elevations and read about how versatile they were. Honestly, what sold me on them was that they came with their own custom brackets for a really clean install. After owning them and using them on a daily basis, I am in love.
Any challenges you had to overcome when building your home theater?
The biggest challenge I had to overcome was what to buy. The only piece of equipment I knew I wanted before starting this project was an OLED TV. Diving into high-performance audio was not something I took lightly. I don't purchase anything on a whim and I don't like to waste money on products that aren't of the best quality for the money (in my opinion). I did every ounce of research I could before deciding to go with SVS. I spent hours on Crutchfield, AV Forums, Audioholics and YouTube. I watched every interview with SVS possible with Gary, Nick, Larry, Ed, and Smith. I even joined the SVS Happy Hours on Facebook. Ultimately, I'm thrilled with my decision of having SVS in my home theater.
What are some of your favorite movies or music for showing off your system?
This is a tough one as so much content is available. I would say for movies, I like showing off Thor: Ragnarock. My wife and I also just watched the Netflix Original Extraction (not to be a Hemsworth fan boy) but the bridge scene from Extraction sounded amazing. For music, I always use Tidal and I like to bounce around. I like playing songs that people are familiar with because the Pinnacles just bring everything to the next level. Recently to show off the bass, I played Kid Cudi's Day 'N' Nite. To show off some really amazing vocals with a lot of background I like to play Billie Eilish (my wife is a big fan), and for some old school rock I love playing Riders on the Storm by The Doors. The towers just have a way of playing the rolling thunderstorm in the beginning so well.
Why is having a home theater important to you?
In my opinion, movies, music, and entertainment have a way of bringing people together to enjoy a common experience. As I said before, some of my greatest memories are with my dad in front of a pair of speakers. I wanted that in my own house. Now I share this immersive experience with my wife, my friends, and my family. It feels good when people hear the system for the first time. The "wows" and the "this is like being at a movie theater" never get old. One of my best experiences so far was having my dad experience the system for the first time, it made it all worth it. I like having something that so many others can enjoy with me.
Anything else you'd like to share with the SVS community?
There is no doubt that a home theater is an investment. I for one wanted to be satisfied and proud of what I had put together. After doing all of my research and being pretty close to my final decision, I joined one of the SVS Facebook Happy Hours and I knew SVS was right for me. I wanted to be part of a community that felt the same way I did about home theater and music, for me that was SVS.
I also leveraged the System Builder tool on the website. Using that tool along with the Customer Bill of Rights gave me the confidence to go with SVS. Now I have my eye on a set of Prime Wireless for use on the porch.
Browse Other SVS Featured Systems.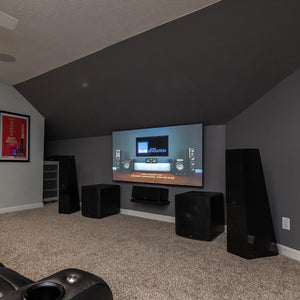 SVS Featured Home Theater: Kyle H. from Madison, MS
Kyle from Madison, MS Kyle from Mississippi has been on a j...
Read More