Featured Home Theater System: Dan in Campobello, SC
Dan

in Campobello, SC

While headsets are the dominating force in audio when it comes to gaming, there's a lot to enjoy by playing with a full 5.1 surround sound speaker system. Our latest featured home theater owner is the manager of a popular video game and hardware review site Pixelated Gamer. Seeking a more immersive and tactile experience to really assess the soundtracks of games he's reviewing, Dan from Campobello, SC upgraded to an SVS Prime Tower surround system with SB-1000 subwoofer. Now, he can feel the action in every boss fight and post-apocalyptic RPGs have a spine-chilling realism that never existed before.
The Setup:
Denon AVR-S540BT 5.2 channel 4K Ultra HD Audio Video Receiver
TCL P605 and Haier 55E5500U 55-inch 4K Ultra HD LED TV (in rotation)
Azulle Byte3 Mini PC
Xbox One X, PS4 Pro
Lenovo Mirage Solo VR with Daydream
Maxnomic Leader Office Comfort Gaming Chair with Custom Site Logo
Questions And Answers:
Why is having a high-performance audio system important to the gaming experience?
Gaming is now the largest and most popular medium within the entertainment industry. The best games and franchises provide an interactive experience like nothing else on the market. With steady advancements in CPU and GPU architecture, games are movie-like in both their graphical fidelity and overall presentation. Immersion is key and nothing heightens that dynamic more than an elite surround sound system that is equally powerful as it is balanced.
What does 5.1 surround sound offer that you don't get from headphones?
While you can achieve some impressive virtual surround sound from headsets, it's still simulated and artificial surround sound. An actual Home Theater System comprised of quality speakers that are properly setup and configured will always deliver a superior experience to headphones. There are some absolutely incredible gaming headsets on the market, but even the most advanced models available cannot replicate the sensation, power and experience that is delivered by our SVS Prime Tower Surround Sound System.
Why are subwoofers/bass important to the gaming experience?
To experience today's games to their absolute fullest, a high performance subwoofer is paramount. It needs to be highly responsive and capable of delivering not only the bass you hear, but the low guttural bass you actually feel. Action sequences, boss fights and soaring musical scores in video games simply come to life when paired with the foundation shaking subwoofers like my SVS.
Why did you choose SVS as your reference audio system for the Pixelated Gamer testing lab?
Selecting SVS as our preferred surround sound system for our test lab came down to many factors. For reviewing games, we wanted to have the absolute best audio system in place. It had to be immensely powerful and equally balanced. Speaker components, cabinet design and build quality also had to be best in class. The SVS Prime Tower Surround Sound System and SB-1000 subwoofer absolutely nailed the necessary requirements and at a price the competition simply can't match.
What are some of the best audio experiences you've had while gaming?
That's a tough one, as we review so many amazing games across each and every platform. Recently, I'd have to say the chilling survival horror experience provided by Resident Evil 2 is a great example on how our SVS system was able to dial up the intensity and fear inducing campaign to new levels of terror. Another phenomenal adventure, where the game's sound floored us from the very start was Remnant: From the Ashes. It's a post-apocalyptic Action RPG featuring abandoned cities, dark forests, swamps and treacherous dungeons. The sounds made by the ravenous creatures that call this mysterious island home, sent chills down our spines.
The clarity and precision produced by the SVS surround sound system made every growl, snarl and roar seem a little too real at times. It created an extremely cinematic experience and helped to make this game incredibly immersive; so much so it is now one of our favorite games of this generation.
Anything else you'd like to share with the community?
I'd encourage both gamers and audio enthusiasts alike to save up and properly invest in their home theater system. Slowly build your dream system over time. It all comes down to the quality of the parts and the performance capabilities of each driver, tweeter and sub. SVS is on another level in home audio, from their speaker components, cabinet design and onboard technology used such as their advanced crossovers, powerful amplifiers and advanced DSP engines. Don't compromise for a cheaper all-in-one system simply for convenience. The wait is so worth it and the crew at SVS can help you properly plan and spec out exactly what you are looking to achieve. We ourselves can't wait to further expand our own SVS system this year…cheers!
Browse Other SVS Featured Systems.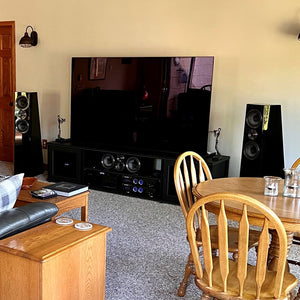 SVS Featured Home Theater System | Mike E. from Calumet, MI
Mike from Calumet, MI As a former music teacher, Mike E. fr...
Read More