SVS Featured Home Theater System: Don C. in Mt. Vernon, WA
Don C.

from Mt. Vernon, WA

Bass trombone player and big band/orchestral music aficionado, Don C., has been playing various instruments professionally for 50 years and learned to appreciate the nuances of sound reproduction. In this SVS featured home theater system, Don talks about critical listening, the importance of bass, the weight and power of a well-designed subwoofer, and how the PB16-Ultra subwoofer delivered, "The biggest sound improvement and impact on my stereo system ever. Period."
The Setup:
Magnapan 1.7 Speakers pair
2 x VTA M125 Tube mono block amplifiers built from kit with Bob Latino as designer
Prima Luna EVO 400 preamp with balanced and single ended connections
Decware Tascam 160 with tube outputs plus separate potentiometers
65-inch Vizio TV
Questions And Answers:
How has the SVS PB16-Ultra subwoofer impacted the sound of your home audio system?
Finally, the system has the weight and power I have been missing for so long; but not only has the bass improved, but all frequencies up and down the audible spectrum as well. The tonal quality is full and overtone structure intact. The dynamic range is spectacular and is enhanced by hearing so deep and wide into the soundstage. The low bass power is something you can feel as well as hear from my pipe organ favorite CD's. Crown Imperial with Dallas Wind Symphony with Mary Preston on organ. Pomps and Pipes with Dallas Wind Symphony is also a must to hear.
I can speak for experience as I have been playing trombone for 50 years with 25 years in The Skagit Symphony as the bass trombonist and 6 years in a professional big band with the arranger playing back up with Frank Sinatra. You have hit a home run with this amazing SVS PB16-Ultra subwoofer. Keep up your great work for making a state-of-the-art subwoofer that is attainable to many more audiophiles without needing to spend $7.5K from your competitor's single subwoofer. All I can do is praise you for the biggest sound improvement and impact on my stereo system ever, period.
As a bass trombone player and general why is bass important to music?
So much is going on in the bass as major concert bands always tune from tubas, trombone and all the low brass instruments. This is where they build the foundation of sound from these roots. The strength and foundation of an orchestra is chiefly expressed from these low voices. Let's not rule out the important well-tuned tympani drum and string bass as well.
Why is having a great audio system important to you?
Just simply immersing myself into the music is so enjoyable and relaxing. Melts your cares and anxiety away. A form of therapy to calm the mind.
How has being a musician helped your ability to listen critically?
Well, over my lifetime playing in many various groups I have become very keen on the various individual characteristics of instruments, which is so much more perceptible in person versus a recording. For instance, the overtones and reed sounds of saxophones and clarinets, as well as the way strings going up and down a bow affect the deep rich sound of a viola, which is unique to that instrument.
Different types of trumpets also have unique overtone structures. Tubas can vary as well in projection and power based on its configuration. Trombones as well in the Alto trombone tenor bass and double bass all have their own unique overtone structures you can listen to as part of critical listening.
I can think of so many other cues going on such as the acoustical space front to back and height of this space around the instruments and notes bouncing off that space as well. The conductor walking up on stage, mutes dropping on the floor, pages turning by musicians. Listening for the actual clapping of hands from audience. Does it sound like rain drops or real hands. Listening to the blow of air from initial attack of brass instruments, there's so much to appreciate.
When did you first get into high performance audio?
Well a very long time ago in the early 1970's with Audio Research gear SP-6B, SP-8 preamps tube, along with Audio Research huge D110B solid state power amp. I also went through many high-end speakers Acoustat 2+2's and the original Martin Logan electrostatic speakers. During my military days I had the pro JBL 4343's and it's odd I can't find any old photos of them from the 70's.
Tell us about your experience playing with The Wind Machine band?
So much talent was in this amazing group of players. We always sold out in venues where we played. Unfortunately, we never had a CD cut from a record label. I managed to make professional recordings of the group and may show this on Youtube in the near future for prosperity for future generations to hear. I did pass this CD recording personally to The Count Basie Big Band when they were in town as I got to meet them all back stage many years ago, some of the trumpet players played back up for Paul Simon and Stan Getz . Paul Sorensen, our aranger played with Frank Sinatra. It was a very memorable experience playing with them for 6 years.
Anything else you would like to share with the SVS community?
There is so much positive about the SVS PB16-Ultra that not sure how to express my true thoughts. I have read the professional reviews and from trusted sources. Even tonight I am playing Pure Moods CD music and I need to say with even one subwoofer that I have so far in my stereo setup, ALL Frequencies our sounding more expansive not just the deep bass. All music hall is expanded in depth and you can hear much deeper in the soundstage. In orchestra works the trombones have the weight and power in real life and voices have newfound body and weight to them in jazz recordings. The timing and speed is amazing in low bass once levels are adjusted.
I am running the subwoofer in balanced mode on my Prima Luna EVO 400 preamp with 120-watt tube mono block amps. The source is a modified Tascam CD player with tube outputs. The speakers are Magnapan 1.7's with relative low efficiency; but even with that, the SVS app on my iPhone dials everything perfectly and I am astounded by the improvements which are staggering.
I should point out I don't have a surround system at all nor and AVR but soon looks like that will be changing and will be anxious to hear what this sub can do on movies. I have been playing organ music which can shake the walls even at -14DB.
Browse Other SVS Featured Systems.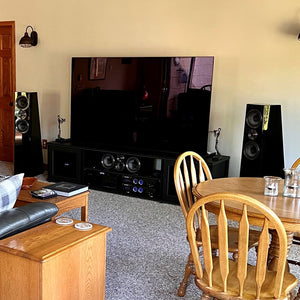 SVS Featured Home Theater System | Mike E. from Calumet, MI
Mike from Calumet, MI As a former music teacher, Mike E. fr...
Read More