SVS Featured Home Theater System: Glendon Rusch, Louisville, KY
Glendon R.

from Louisville, KY
The world of high-performance sports and audio collide in out latest featured system with 12-year MLB veteran Glendon Rusch. Ironically, his love of audio took root when he signed his first major league baseball contract, which lead him to invest in a pair of towers speakers and an AV receiver. He's since invested in better gear, including a pair of SVS Ultra Tower speakers and an SB-2000 Pro subwoofer in his dedicated 2-channel listening room, and now enjoys music exactly as the artist intended, with pristine clarity and deep, impactful bass.
The Setup:
Panamax - M5400-PM
Krell Vanguard Integrated Amplifier
Krell DVD Standard/CD Transport
Audio-Technica AT-LP120-USB Turntable
Buesound Node2i for Qobuz & Tidal
Sonos Port for Spotify and Whole House Music
Topping D90 MQA DAC
Questions And Answers:
When did you first start getting into high-performance audio?
I have been a music fan since I was a kid hearing my brothers and sister's albums being played around the house. When I was drafted by the Royals in 1993 one of the first items I purchased with a small slice of my modest signing bonus was a Denon receiver and some tower speakers.
In 2000 my friend/teammate Mike Piazza introduced me to Peter Mackay and the wonderful people at Krell. I was hooked after spending an off day up at Krell's headquarters in Orange Ct. I purchased my first 'high end" amplifier the Krell Theater Amp Standard which I am still running 20 years later in my home theater. Skip ahead to 2020 during the pandemic, I started to build a dedicated 2-channel listening room in a loft I have above the garage.
I already had some gear and some bookshelf speakers on stands ($2,500 a pair) which can remain nameless. Most all of my music in this room was occasional vinyl, CD or Sonos for background music or non-critical listening. Having a bunch of extra time on my hands during covid times I went on an educational mission to learn about the newest generation listening to music and it's been an absolute blast!!
Where did you first hear about SVS?
I heard about SVS being a dedicated Howard Stern listener and started reading about your subs and speakers etc. I read countless reviews and watched just as many YouTube reviews and they were a long line of great reviews and happy customers!! Having the in-home trial that you guys offer it was a no brainer. I wanted a full sound accompanied by some great bass response so I chose the Ultra Towers and SB-2000 Pro Sub. After setting them up and spending a couple hours with them I had the box cutter out and I was recycling the boxes!!
What do you listen/look for in speakers and what are your impressions of the SVS Ultra Towers?
The look and finish of the Towers is beautiful! I went with the piano finish. Listening to the Towers in an absolute joy! They are very versatile with the ability to play very detailed music and rock it out on the next track. Great soundstage with depth, separation of instruments and great center imaging and vocals. These speakers are so good and the value makes them even more accessible to people who are on a budget.
What was the impact of adding the SB-2000 Pro Subwoofer?
This sub is just awesome! Deep impact bass and very musical. Love the ability to adjust on the fly in the app, which I have never had before except in my vehicles. Such a great feature since all recordings are different!
That combo with the Ultra Towers sounds amazing, the finishes on both are just awesome and you can't really appreciate it fully until you see and hear them in person.
Why is having a separate 2-channel listening room important to you?
Music is meant to be enjoyed in a 2-channel setting. With all the distractions that we have now, if you have the ability to actually sit down in a dedicated space and enjoy the music that's really what it's all about! Hearing music the way that the artist and sound engineers intended is a really eye-opening experience. Today everything is phones and ear buds and unless somebody introduces you to listening in a different way you might never know what you are missing.
Favorite albums/artists/songs you like to enjoy on the system?
Growing up in Seattle I still remember the day when Pearl Jam Ten was inserted into the CD player in my Honda and I haven't stopped loving 90's and 2000's rock since. During my baseball playing days I have been fortunate enough to cross paths and become friends with some of my favorite musicians/bands.
My go to bands have always been Pearl Jam, Soundgarden, Rage Against The Machine, Tool, Audioslave, Coheed and Cambria, A Perfect Circle. I also love hip hop from old school N.W.A., Dr. Dre and Public Enemy to the new school of Drake, Travis Scott and Da Baby that my sons have introduced me to!
Browse Other SVS Featured Systems.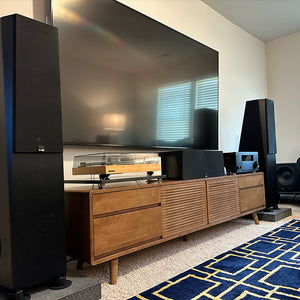 SVS Featured Home Theater: Dan C. from Cornelia, GA
Dan from Cornelia, GA Audio shows are the single best way t...
Read More