SVS Featured Home Theater System: Kurt O. from Albuquerque, NM
Kurt O.

from Albuquerque, NM

After the drivers on his previous tower speakers failed, Kurt from New Mexico was in the market for a new pair to bring a level of live performance realism to his 2-channel bedroom system. After much research, he auditioned the SVS Ultra Tower speakers and never looked back. In this profile, Kurt shares some of his favorite tracks for showing off the system, tips for optimizing the sound quality, and how the SVS floorstanding speakers helped him enjoy his music on a deeper level.
The Setup:
SVS Ultra Towers, Master Bedroom speakers, main listening system
Paradigm Studio 100 V2, Living Room speakers
Rotel RB-1582MKII, Power-Amplifier (200 W/ch 8 ohms, a lot more into 4 ohms)
Rotel RC-1572MKII, Pre-Amplifier
Niles SS-4, Speaker Switch Box
Sony 62 in LCD TV
Sony Blu-Ray Player and carousel DVD player
Sony HAP-S1, HDD Player/Streamer
Teac CD-6500, CD Player
Sony MDS-JB920, Mini Disc Deck
Amazon Echo Link, Streaming Device (Amazon Music and Spotify), my main source
Questions And Answers:
When did you first start getting into high-performance audio?
I was an avid music lover from elementary school but discovered high fidelity in high school. My first system was a Radio Shack, Realistic component system, from there it has been an important part of my life for decades.
How did you first hear about SVS?
My main listening room is the Master Bedroom, it is a bit isolated from the rest of the house (via heavier sheetrock, solid core door and in-wall insulation). About 4 years ago I was in the market for a tower speaker to replace ones that had failing drivers. I saw SVS advertised in all the audio sites I visit and my local audio store, Listen Up, who carried the subwoofers and the Prime Towers. So, it was from there that I did more research on SVS speakers and decided to try the Ultra Towers in this room.
What was the impact of adding SVS Ultra Tower speakers vs. what you were running previously?
I was already using large tower speakers for my primary listening in the bedroom and the drivers were failing. Instead of repairing them I decided to try the SVS Ultra Towers. They produced a larger soundstage, more powerful bass and have an incredible midrange impact compared to my previous speakers. The high frequencies are balanced well with the midrange, neither being too forward or bright. Also, I never heard drums reproduced like this with any of my many speaker systems. The Rotel amplifier easily drives the Ultra Towers to room shaking levels. All picture frames use felt pads on the rear corners to minimize undesired vibration induced sounds!
I have close friends over to hear my system and all are so impressed with the Ultra Towers, they have heard all I have ever owned, and that quite a few, all say these are their favorite. The biggest compliment is when they use the streamer and ask to hear their favorite song and they love it! It's all about the enjoyment of music!
What was the biggest challenge is setting up your music system?
For me, the 2-channel music system is relatively easy to set-up. Speaker and listening position are the hardest to control. The SVS Ultra's are positioned in the corners of the room. I use the supplied port-plugs to calm down what was too much bass given the room size and corner positioning without the port-plugs. This works very well, and the sound is excellent for my taste.
What are some of your favorite albums/songs to show off your system? (I saw the 2 you recommended to Gary, so we can definitely include those)
I use Lone Justice "Shelter" to evaluate and compare speakers. This work is very well recorded, contains various electronic and acoustic instruments and music styles. The female voice and piano recordings on this cd can give the listener a "realism" test.
I listen to a lot of dynamic, heavy rock music with strong melodies (classic and alternative). The album Sound Garden Superunknown is a favorite, the song "Spoonman" is particularly good. I enjoy The Cult. "She Sells Sanctuary", and Chevelle, "Well Enough Alone" also. They produce some excellent music with high-quality recording.
Bruce Springsteen, "Wrecking Ball", amazing how he keeps being creative with excellent sound quality. John Mellencamp, the more modern years, his writing growth is impressive. Check out "When Ever We Wanted" and "Human Wheels." Both so well done!
An observation of mine is how well the Ultra Towers play drums, not just the low end but up through the attack on Tom Toms, really amazing. Good example of this is Fleetwood Mac Tusk, in particular "Sara"… wow… again! Tusk has many great highlights.
Also, I think of this as the Rush, "big three", "Permanent Waves", "Moving Pictures", and "Signals", with "Moving Pictures" being the highlight of this group. Great music with amazing sound.
Why is having a great speaker system important to you?
In my opinion the speaker is the "last word" in any audio system, and to hear recorded music approach what you might hear live is what it's all about. I love music but I also desire it to sound as good as possible. The goal of "Hi-Fidelity" is to allow one to listen to the music one enjoys with as much realism as one chooses to obtain
Of all the SVS gear in your homAnything else you'd like to share with the SVS community?
I have enjoyed listening to my music through the Ultra Towers for many years now. They sound exceptional and easily compete with designs many times their price!
My favorite one-word description of the sound of the SVS Ultra Towers is… "WOW"!
Browse Other SVS Featured Systems.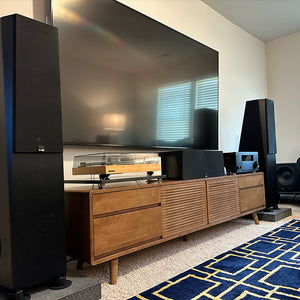 SVS Featured Home Theater: Dan C. from Cornelia, GA
Dan from Cornelia, GA Audio shows are the single best way t...
Read More