Featured Home Theater System: Mark in South Jordan, Utah
Mark

in South Jordan, Utah

Transforming a living room into a high-performance home theater can present unexpected challenges when trying to balance décor and spousal acceptance with optimizing sound quality in a multi-use space. After presenting his vision for a home theater escape to his wife, Mark from Utah pieced together an amazing system anchored in the low end by his dual PC-4000 subwoofers. Dually impressed by the massive output and subterranean extension of the subwoofers, he went all out with acoustic treatments, Atmos speakers and more, resulting in an immersive escape that gives his friends and family a reason to sit and enjoy life.
The Setup:
Speaker Cable - SVS Soundpath Ultra, Inwall - Audioquest
Main speakers - Polk Audio RTi A9
Rear speakers - Polk Audio RTi A9
Center speaker - Polk Audio CSi A6
Atmos speakers - Polk Audio 70-RT x4
TV - Sony 940E 75"
UHD 4K player - Oppo 203
4K Apple TV
Marantz 7704 AV Receiver
Fronts Amp - Emotiva Gen3 DR3
Equipment rack - Solid Steel S4-4
TV Stand - Salamander Designs 7225
Power Conditioner Main- Furman Elite PFi20
Power Conditioner Subs - PS Audio Dectet
Power Cables - PS Audio AC-5, Cullen Cables for 20Amp circuits
HDMI Cables - AudioQuest - Chocolate
XLR Cables - AudioQuest - King Cobra
Wall Treatments - GiK Acoustics - 242 Panels, Impression Series Decorative Panels
Power - 20 Amp Circuits X3
Rear surround Amp - Emotiva Gen3 XPA-2
Atmos Amp - Emotiva Gen3 XPA-5
Zone 2 Amp - Emotiva BasX 300
Questions And Answers:
When/Why did I get into high performance audio and HT?
When I was very young my grandfather loved audio. He would always have something on when I would visit all through the 70s/80s. He would listen to LPs and Reel to Reel tapes. I always thought they were so cool. I always liked the different formats and how they worked. Sadly, he died of cancer shortly after retiring.
I continued that love when I got my first CD player and receiver in 1987. I saved for a long time to get them at that age. It was in the early days of surround sound and I remember the center and rears only had 25 watts per channel.
What was the impact of adding dual PC-4000 subwoofers?
I have had multiple subs over the years. I started with a Cerwin Vega Passive sub that drove my parents crazy. I keep that for years and finally went to a powered sub in the late 90s. I always wanted more though. When I decided to start upgrading my system in 2016, I ended up with the PC -2000s. I instantly loved them but wanted something more to keep up with the capabilities of the Polk RTiA9s, with proper amplification the A9s can handle about anything.
Since I had 2 smaller systems in the house, I moved the subs and went for the PC-4000s. The day they arrived I was wondering what I had done. Will my house take the pressure these subs can put out? Once they were calibrated and broken in, I have to say it was the right choice. They blend perfectly with the system and there are no signs of stress from anywhere in the system. They are also a perfect choice for space limitations in your room and the quality and response of the subs is amazing.
Why is bass important to your listening experience?
Bass is something that gives that finishing touch on any piece of music or film. It needs to impactful and timed right to pull you into the presentation. it also needs to do so many things right from the start/stop of a track to the very deep and crazy LFE some movies have. I am very impressed with my SVS subs. They are very smooth and never show stress with the output. Great job SVS!
What benefits did you get from using acoustic room treatment?
As I added each piece to my system, I could tell my room was a big part of the sound and experience I was getting. I knew having a more modern room and hard floors was an issue I would need to address it to enjoy the system correctly.
I reached out to GIK Acoustics and had them help me come up with a plan for the reflection of the room. What they came up with was amazing once installed. The room is now so much warmer and the speakers have such a centered presentation to them. I feel this upgrade was one of the bigger improvements to the system. We may add a couple more.
What was the biggest challenge when setting up your system? How did you overcome it?
I would say the biggest issue would have to be convincing my wife to let me have control of the space and seeing what I had in my mind for it. She is very chill about my hobby and I am grateful she is.
The walls being covered with the acoustic panels was her pause moment. I was glad we could do a more artistic panel for the back walls and attached dining area. She now likes them and everyone thinks they are just art.
What are some of your favorite music and movies for really pushing your system?
Music - Anything Deadmau5 and Daft Punk, Buddy Guy, 70s Funk, Also lots of 90s Hip Hop. If you really want to test the extremes of your system, try DJ Magic Mike -Do you like Bass 2. Stress city on a sub!
Movies - Batman Dark Knight Trilogy on 4K Discs, Aquaman, Spiderman: Into the Spiderverse, Pacific Rim, Harry Potter 4K discs with DTSX sound.
Why is having a high-performance home theater important to you?
Life is a wild ride for sure. The escape a good theater gives you is worth every penny. We find it gives us a reason to sit down and enjoy life.
Anything else you'd like to share with the SVS community?
I feel this is a family room system that can be a draw for the friends and family for years to come. It was fun doing and now we will just enjoy it.
Basement is still unfinished. I see dual PB16 ultras in my future.
Browse Other SVS Featured Systems.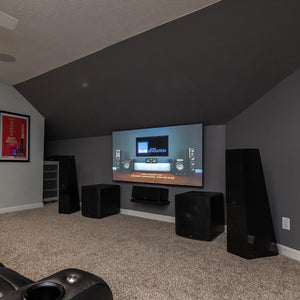 SVS Featured Home Theater: Kyle H. from Madison, MS
Kyle from Madison, MS Kyle from Mississippi has been on a j...
Read More