SVS Featured Home Theater System: Pan the Organizer in Toronto, Canada
Pan the Organizer

from Toronto, Canada

Pan the Organizer is passionate about cars, consumer electronics, and living an organized life. Not only that, he loves sharing his passions on his popular YouTube channel, where he is an authority on all things automotive detailing. When it comes to his incredible home theater, Pan originally enjoyed the force of a single SVS PB13-Ultra subwoofer, but has recently made the upgrade to dual SVS PB16-Ultra subwoofers. The added output and deep bass extension now rocks his world to the point of blurring the line between fantasy and reality. Recently, he posted an entertaining and detailed review of the PB16-Ultra subs on his channel, and his home theater looks so amazing, we had to feature it here.
The Setup:
JVC NX7 native 4K projector
Grandview Edge 120" 16:9 fixed screen
Marantz SR-8012 flagship 11.2-channel receiver
Oppo Digital UDP-203 4K Blu-Ray player
Apple 4K TV media streamer
Custom acoustic panels
GoldenEar Technology Triton Two+ fronts
GoldenEar Technology SuperCenter XXL center channel
GoldenEar Technology SuperSat 50 surround channels
GoldenEar Technology HTR7000 surround back channels
GoldenEar Technology Invisa 650 height channels
Valencia Theater Seating Tuscany row of 4 motorized theater seats
Logitech Harmony One universal remote
HDMI and speaker cables from AudioQuest
Main HDMI cable to projector is an AudioQuest Cherry Cola model
Questions And Answers:
When and why did you first get into high-performance home theater and audio?
All my life, I've really loved electronics, especially the higher-end stuff. I got my first surround-sound setup in 2010. The subwoofer was a small Focal, which I thought was pretty good until I noticed that it was bottoming out during some movies with deeper sequences. I wanted to get the best subwoofer possible, so I started reading reviews in Home Theater magazine [now Sound & Vision], where SVS kept coming up as a top brand. I decided to go with the top of the line, which was the PB13-Ultra at the time [2011].
How did that upgrade affect your home-theater experience?
I was blown away! I had a bunch of friends with home-theater setups as well, and when they heard what that subwoofer could do, they purchased SVS subs of their own. In fact, I kept that sub in my system until last year, even though I upgraded much of the rest of the gear in the meantime.
How have you found the customer service of SVS?
Very impressive! The PB13-Ultra I got didn't have the BASH digital amplifier, so it had a bunch of manual controls on the back. At that time, I wasn't too knowledgeable about how to properly set up a sub, so I reached out to SVS, and [Director of Technology & Customer Relations] Ed Mullen responded with lots of helpful information. Not only was I getting a high-performance and super well-built subwoofer, I was getting someone at the company who taught me how to adjust the settings. We exchanged at least half a dozen emails, which helped me dial it in perfectly.
After all this time, you finally did upgrade the subwoofer, right?
Yes. In 2019, I bought a new home with a very large home-theater room—35 feet long by 18 feet long with nine-foot ceilings. Although the PB13-Ultra was very capable and sounded great in that room, viewers of my YouTube channel commented that I would probably need a dual-sub setup. so I looked into that. And of course, I was so satisfied with my previous SVS sub that it was only natural to get two of the new PB16-Ultras, and boy, am I glad I did!
How was the process of dialing in the dual PB16-Ultras compared with the previous PB13-Ultra?
It was much easier! With the PB13-Ultra, I had to think about things like room size, filters, and a bunch of other stuff. With the PB16-Ultras, Ed recommended that I start with the factory defaults and run Audyssey MultEQ XT32 from my Marantz SR8012 AV receiver. You set the subs to a level of roughly 75 dB and let the auto calibration do its thing. That was it; there were literally no settings to adjust. I was up and running in less than half an hour. The phone app lets you adjust anything manually if you want, but I didn't feel the need. Now, regardless of which of the four seats you're in, you get good bass response that balances perfectly with the rest of the sound.
Was there a moment when you realized the difference between your previous setup and the new dual-sub setup?
I have some reference clips that I know what they should sound like. One of the best is from The Dark Knight—the scene where they're transporting Harvey Dent in an armored SWAT van. The Joker comes along in an 18-wheeler and his crew is throwing bombs and shooting guns. There are tons of explosions! The PB13-Ultra could definitely dig down there with more than enough power, but the dual-sub setup was really the next level; it literally blew me away! Another one is a scene from U-571 with exploding depth charges. It's like you are there; before, I got tons of awesome bass, but now, I feel it in my chest. There's so much more air movement, it's way more enjoyable.
Why is bass important to your cinema experience?
I want to feel the movie. It's one thing to hear subtle nuances at lower volumes and height effects in a Dolby Atmos setup like mine; that's great. But to really feel what's going on, you are more completely immersed if you have a great subwoofer. For example, in the movie Strangers, when someone knocks on the door, it literally feels like there's someone in the room. I even find myself turning around sometimes, thinking, "Was that the movie or was that real?" When you're blurring the line between the movie and real life because of the bass, that's awesome!
Why is having a high performance home theater important to you?
It's definitely about forgetting my daily life. When I walk into that space, it brings me into another world, another state of mind. I calm down, relax, and focus on being entertained.
Anything else you'd like to promote and share with the SVS community?
I invite people to check out my YouTube channel, Pan the Organizer. If you're passionate about home theater, hi-fi, electronics, and car detailing, I have many tutorials and reviews in English and French. Basically, I share my passions with my audience and help people organize their lives. It's about having a clean car, a clean home, a well-organized space, even how to do your budget and start your own business. I've been doing it for four years now, and it's growing like crazy!
Browse Other SVS Featured Systems.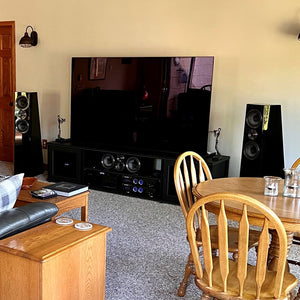 SVS Featured Home Theater System | Mike E. from Calumet, MI
Mike from Calumet, MI As a former music teacher, Mike E. fr...
Read More