SVS Featured Home Theater System: Pavan in Plymouth, MN
Pavan

from Plymouth, MN

Upon moving into a new home, Pavan from Minnesota finally had the space to create a personal area dedicated to passion for home theater and music. After discovering SVS on YouTube, he built an over-the-top 5.2.4 home theater surround sound system anchored by Ultra Tower speakers and a pair of PB-4000 subwoofers. Now, staying at home never sounded better.
The Setup:
4 x Sonance mag6r in-ceiling speakers for Dolby Atmos (2 pairs)
Denon 4500H AV Receiver
Outlaw 5000 Amplifier
DIY 150-inch cinemascope screen
Epson 5040ub Projector
Sony UBP X 700 4k Blue ray player
Xbox one
Umic DSP mic for audio calibration
Questions And Answers:
When/why did you first start getting into high performance audio?
A "Mancave" was always my dream. I decided to set it up when I decided to move into my new home since I finally had the space.
How did you first hear about SVS?
YouTube. I was exploring all the options and every Home theater channel were raving about how good SVS subwoofers were. Went to Best Buy to have a closer look, fell in love with the form factor and the performance.
What led you to upgrade to SVS Ultra speakers?
Frankly, these are my first set of speakers and home theater gear. I wanted to get everything under the same brand. SVS had everything and I caved in. No regrets.
Why is bass important to home theater and music?
Who doesn't like the bang – bang of serious bass. The feel/experience is second to none. Proper calibration plays a vital role. I did use uMIC to calibrate and minimize the nulls and peaks.
What has been the impact of adding dual PB-4000 subwoofers?
I feel the bass is more uniform across. Initial set up was with only one PB-4000. I don't know if it's just me, I felt the bass to be directional where the subwoofer was placed, I understand Bass is Omnidirectional, but somehow I had that directional feel, also one PB-400 didn't look good visually. Add the second, BOOM - it is much more satisfactory and visually pleased as well. The SoundPath Subwoofer Isolation System does make a difference in reducing the rattles even though mine is set on concrete floor.
Any challenges you had to overcome when setting up your system?
None really. Everything ordered online from SVS - it's just plug and play. Built my own screen which is 150-inch Cinemascope.
Why is having a great home theater important to you?
It's a great way to spend time with family and friends or alone. Look what COVID did :).
Anything else you'd like to share with the SVS community?
Love seeing all your setup's in FB group. Keep Rocking!!
Browse Other SVS Featured Systems.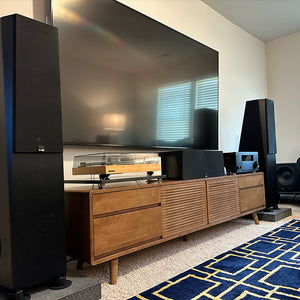 SVS Featured Home Theater: Dan C. from Cornelia, GA
Dan from Cornelia, GA Audio shows are the single best way t...
Read More