SVS Featured Home Theater System: Ralph in Middletown, NY
Ralph

from Middletown, NY 

As a reviewer of Blu-ray discs for popular tech site AVSForum, Ralph P. has a professional reason to be passionate about speakers, subwoofers and audio. After upgrading his subwoofers to dual PC-4000s last year and experiencing the room-shaking output with subtlety and refinement, it planted the seed for him to upgrade his speakers as well. He started by replacing his surrounds with the Ultra Surrounds, but then realized he wanted to go all the way, and after speaking with the SVS Sound Experts, Ralph added the Ultra Towers and an Ultra Center speaker. Now, he's picking up on every ominous bass note, heart-pounding explosion and even the softest sound effects with convincing realism like he's never experienced before.
The Setup:
SVS Ultra Tower Speaker (Gloss Finish)
SVS Ultra Center Channel (Gloss Finish)
SVS Ultra Surround (Gloss Finish in Bipolar Configuration)
Dual PC-4000 Cylinder Subwoofers
JVC DLA-RS2000 4K Ultra High Definition Front Projector
Stewart Filmscreen - Studiotek 130 G3 100" 16x9 Screen
Carada Masquerade Electronic Horizontal Masking System
Marantz AV7704 Audio/Video Processor
Emotiva XPA-7 Gen 3 Seven Channel Amplifier
Emotiva XPA-11 Gen 3 Amplifier
Panasonic DP-UB820 Ultra HD Blu-ray Player
Oppo BDP-203 Ultra HD Blu-ray Player
System Controller: Apple iPad/Roomie Remote V6 Universal Remote Control
Niles Audio In-Ceiling/In-Wall Series Speakers
Panamax M5400-PM Power Conditioner/Surge Protector
Wireworld, Better Cables (Silver Serpent) - Audio/Video/Speaker Cabling
AC Infinity Aircom T8 Component Cooling Systems
Questions And Answers:
When and why did you first start getting into high performance home theater and audio?
I first began getting into high performance home theater and audio in 1999. It really just came from a place of wanting a better experience since I was getting more into movies and actually had some funds to invest. I had heard a friend's system and watched a movie that I'd seen several times and the experience just convinced me I was missing out on so much of
What was the impact of adding dual PC-4000 Subwoofers? Why did you go with the cylinders?
I went with the cylinders because I wanted the 4000 series performance in a smaller footprint. I reviewed the PC-4000's in April of 2018. A Here a snippet from the review answer the question perfectly: "As a fan of the Ultra-13 series, I've always appreciated their ability to balance muscle with finesse, especially with demanding material. The PC-4000 makes that muscle not only bigger but more sinewy, especially when flexed. Their definition and balance remain positive attributes, while their response feels prodigiously full and room coupling."
How has the addition of SVS Ultra speakers changed your home theater experience?
In my listening thus far I have found the Ultra Speakers to be revealing without stridency, while delivering excellent dynamics and tonal balance. There is a visceral impact with the Ultra Tower speakers that I have never had before. Clarity, mid range punch, smooth clear highs, solid, deep, punchy bass. It's all there. It's as close as I've ever heard to the musicians actually sitting in my listening room.
The Ultras reproduce music with authority yet are capable of subtle nuances. Female vocals in particular sound shockingly upfront and clear. Even drums sound completely amazing on these. I can envision the sticks making contact with the heads. It's mesmerizing and so addicting. I just don't want to stop listening to these things. I have also put these through their paces with HT and they perform just as good with that. They are simply a blast to look at and listen to.
I could go on and on but I'll just cap this off by saying that I could not be more pleased with these speakers. I'm 50 years old now, and until now I never felt the need to upgrade over the last 20 to 30 years. Going by that standard, the SVS Ultra Towers will likely be the last pair of floor standing speakers that I acquire in my life. And I know I will spend the rest of my listening years a very satisfied person.
What do you listen for when reviewing Blu-rays for AVS Forum? Do you have a specific process or set of criteria?
Here are the rating parameters I utilize while evaluating the sound quality of movie soundtracks on Blu-ray. Each category is graded on a 1-5 scale based upon a comparative made against other high definition media/Blu-ray discs. I then rate the audio and video on a scale of 1-100 with 92-100 being excellent and under 65 as below average. The final score is based on: dynamics, low frequency effects, surround sound presentation, clarity/detail, and dialog reproduction.
I really try to break down the audio experience in real world terms so people can understand what to expect in terms of the physical experience because the sound in movies can vary so much depending on how it is mixed.
What are some of your all-time favorite movie soundtracks/audio experiences?
Hmmm this one is tough to pin down but, here are a couple of favorites movie soundtracks/audio experiences from relatively recently:
Blade Runner 2049
Spider-Man: Into the Spiderverse
Alita: Battle Angel
Doctor Sleep
13 Hours: The Secret Solders of Benghazi
Ready Player One
Midway
Ford v Ferrari
Why is having a high-performance home theater important for you? (aside from reviews)
A high performance home theater is a must in order to come as close to or surpass the theatrical experience intended by the sound designer/studio mixer. I want to be blown away when I sit at home!
Anything else you'd like to promote or share with the SVS community?
As an enthusiast I value quality sound and am very pleased with all of my products from SVS. Keep them coming!
Browse Other SVS Featured Systems.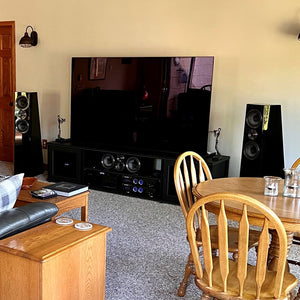 SVS Featured Home Theater System | Mike E. from Calumet, MI
Mike from Calumet, MI As a former music teacher, Mike E. fr...
Read More