SVS Featured Home Theater System: Weston B. from Portland, OR
Weston B.

from Portland, OR

Many home theater fans start on their journey because a parent who had a love of great sound lead them into the hobby. In this featured home theater, Weston from Portland, OR took a hand-me-down system from his Dad and ultimately transformed it into an incredible 5.2.2 Dolby Atmos system featuring SVS Prime and Ultra Speakers. With some advice from the SVS Sound Experts and the installation of acoustic treatments, Weston unleashed a level of performance he never thought possible, reigniting his passion for physical media in the process. Read on to learn about his experience.
The Setup:
Bowers and Wilkins 686 Bookshelf
Pro-Ject Debut Carbon Evo turntable
LG OLED 65 inch
Panasonic 4k Blu Ray player
Denon AVR 3700
Questions And Answers:
When/why did you first get into high performance audio?
I started getting into high performance audio over a decade ago when I was in high school. I got into high performance audio because of my dad. He always talked about these incredible bookshelf speakers he had growing up and that nothing has ever blown his socks off like those. From then on, I worked on upgrading his old Sony stereo system and slowly started getting better speakers.
It wasn't until my junior year in college where I finally purchased some Bowers and Wilkins bookshelf speakers and high-end cables to go along with my turntable. I had gotten my feet wet and now I wanted to dive in headfirst to the audio world. The subwoofer was the weakest link at the time and it always sounded blown and fluttered and that's when I discovered SVS.
How did you learn about SVS?
I had never heard about SVS until I started searching for a subwoofer and I couldn't believe the catalog of subwoofers they had. I used the chat to talk with one of the sound engineers to see what would be good for me to pair with my bookshelf speakers and thus convinced me to get the PB-1000. I was blown away just by the size of this beast and this is one of their smaller subs! As soon as I hooked it up, I could feel those low frequency bass notes that I had never heard, or should I say, felt before. I knew this was now officially the start to me building my dream home theater.
What was the greatest challenge when setting up your system?
The two biggest challenges are 1. Room layout 2. Organization. I had purchased the SVS Ultra Towers when we were living at our old house, and they didn't fit very well as we didn't have a dedicated room. I made a promise to my wife that the next house would have a dedicated room. We just recently moved to Portland, Oregon, and it had the perfect space for everything to fit in an enclosed space.
The second greatest challenge is the organization. As you can imagine there are tons of cords and I set all of this up by myself, so I made sure to get plenty of cord racetracks and hide some cords up top on the baseboards as well. I wanted a clean and sleek look as that helps me relax and enjoy the space even more.
One other challenge at the beginning of anyone's journey into the audiophile world is knowing what to get. It takes some experimenting and that can unfortunately come with a cost. I went through 4 different center channels before finally biting the bullet and getting the Ultra Center, I knew I was investing in good equipment. It is well worth it to get the right gear the first time around, the beauty of audio equipment is it lasts many years so you can take your time and get all the right equipment.
What was the impact of adding SVS vs what you had previously?
SVS has truly blown away the competition, each new speaker I have purchased has complimented the rest of the system perfectly. After I first purchased the PB-1000, they allowed me to quickly upgrade that to the PB-1000 Pro that came out only about a year after my first purchase. For a long time, I only ever had the B&W bookshelves as my front stage and my next purchase was the ultra-center. I couldn't believe what I was missing previously in movies.
The center channel is so important, and the Ultra Center is a beast with crisp dialogue that sounds like you're right there in the movie. All previous center channels I had didn't even stand a chance, they were all too tinny sounding and didn't pack a punch like the Ultra. I had never seen front stage towers in person until I saw my brother-in-laws and I knew that the Ultra Towers had to be my next purchase to replace the bookshelf speakers up front.
When those ultra-towers arrived on the freight truck and had to be dropped off on a palate in my driveway, I couldn't help but grin ear to ear, and I was excited to set it all up. The Ultra Towers refined my stereo listening experience and my records had never sounded so good from just a 2-channel system, but it didn't stop there. Movies were now out of this world, the depth and detail in every explosion and every movement on screen was impeccable. Since the towers replaced the bookshelf speakers, I moved those to the back of the room and now I had my very own 5.1 channel surround sound system.
I had to invite everyone over to watch Mad Max: Fury Road and seeing their reaction filled me with joy. The last piece to the SVS puzzle was the prime elevation speakers and these are the newest addition since I finally had a dedicated room. I was able to hook up the Prime Satellite speakers above the TV (I was using those previously for my PC). The Prime Elevations went slightly in front of the listening position on either side, and you can really hear the Dolby Atmos height effects. This again brought a whole new layer to movies that I had never experienced before. Now I just need the Ultra Surrounds to complete the collection!
Nothing made me happier than having my dad over in the new house with the full 5.1.4 home theater to watch Edge of Tomorrow and see that he was totally blown away. Getting to share my elevated movie and music experience with friends and family brings me so much joy.
Did SVS assist in any way?
SVS assisted every step of the way, whether it was education during the happy hours or if it was chat tech support. I even had an issue with a ground loop when I first set up my Ultra Towers and they were able to help guide me to ensure everything was hooked up correctly and how to avoid ground loops.
SVS also introduced me to one of my local stores at the time in Denver called ListenUp. It was at this store that they helped me pick out my Denon receiver which has further improved the already amazing sound and depth that SVS products offer.
What made you try acoustic treatments in your listening space?
I had originally purchased those panels for my drum set but they could not be hung up around my concrete basement like I intended. I knew that room needed treatment the second I walked in, there was way too much reverb and echo. The ceilings are curved so that added to the problem. I needed to deaden the echo a bit to ensure dialogue is still clear and doesn't get lost. I watched a lot of videos and winged this as best I could with what I had. The ceiling treatment was tricky, but it was well worth it and it's a space that many do not think to treat. Eventually I may refine this a bit and mix in some diffusers on the back wall as well.
What was the process and results afterward?
The process involved a lot of nails and command strips. I tried my best to measure where those first reflection points are as that is the key to getting rid of the echo and reverberations. The result was astounding, and I highly recommend everyone to treat their room in some way as it adds tremendous benefits. The dialogue has less echo and does not sound hollow but rather hits you right in the face and makes you feel like you're present in the movie. It also really helps when listening to records and brings a calming energy to the room, it allows the music to really pop and it sounds warm, rich, and detailed.
Why is having an immersive home theater important to you?
This is my passion, and it has been for over a decade. There is no better feeling that getting to feel and experience the movie you are watching. Having a home theater has elevated my viewing experience for every movie, I am thrilled to check out new movies to hear the score, the Dolby Atmos effects, and the low frequency bass. This room is more than just a home theater, it is a full media room, and my growing vinyl collection also gets lots of love.
The Pro-ject debut Carbon Evo paired with the Ultra Towers is unlike anything I've ever heard. I love learning about all the audio gear, and I love teaching my friends. I recently had a friend get a large projector for movies and I convinced him to get a PB-1000 Pro and some bookshelf speakers and sure enough now he's on the same path building his theater. I had a blast educating him the same was you guys educate the community. This is a space where I can relax and truly experience each movie, song, and tv show. Even my wife has finally come to terms with the whole set up and realized it is impressive and could never go back to watching movies just on tv speakers.
Any movie/music/TV recommendations for audio fans?
Some of the movies that have stood out to me the most and that certainly give you that home theater experience are:
Edge of Tomorrow
Mad Max: Fury Road
Fury
Interstellar
The Lord of the Rings Trilogy
The Northman
Ford V Ferrari
The Dark Knight trilogy
Mortal Kombat
For music I am into lots of heavy metal and punk.
Thy Art Is Murder
Every time I Die
Turnstile
Knocked Loose
Movements
Currents
The Acacia Strain
I do enjoy movie scores on vinyl as well
Hans Zimmer scores are incredible
John Williams
Benjamin Wallfish
TV Shows
Stranger Things Season 4 had some of the best Dolby Atmos I've ever heard
Severance
House of The Dragon
The Bear
Anything else you'd like to share with the SVS community?
Don't be afraid to ask questions, there's no such thing as a dumb question in the audiophile world. Spending a little bit extra to get higher quality equipment is well worth it in the long run. Keep physical media alive!
Browse Other SVS Featured Systems.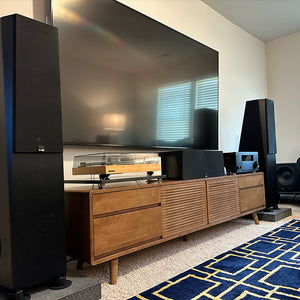 SVS Featured Home Theater: Dan C. from Cornelia, GA
Dan from Cornelia, GA Audio shows are the single best way t...
Read More