SVS Featured Home Theater System: William in Chicago, IL
William T.

from Chicago, IL

The current record-holder for SVS products owned by one person (to our knowledge), William T. from Chicago, IL has a total of 12 subwoofers and 11 speakers set up in various systems throughout his home. In this profile, he discusses the thinking behind his multiple setups, the importance of calibration and how he uses them to create "jaw-dropping" reactions for friends and family on movie nights, while giving himself an outlet to decompress after the work week.

William is also moderator of the popular SVS Sound Enthusiast Group on Facebook, so check it out to see pics of other SVS home theaters and join conversations about system setup and optimization with fellow owners.
The Setup:
Emotiva XPA 5 Power Amplifier
Emotiva DR3 Power Amplifier
Pioneer Elite AV Receiver
Parasound Amplifier
2x Marantz AV7705 AV Processors
2x Panasonic DP-UB820's
2x MiniDSP
4x 4K HDTVs.
Questions And Answers:
When did you first start getting into high-performance audio?
When I was a teenager, I used to work for Circuit City, so I was into the Velodyne and had a Polk Audio sub and speakers and got everything at lower than retail costs and was always trying the best they had to offer. But they weren't selling the specialty audio type gear. It was just the best they had offered for mass consumption. After experiencing that, I knew I wanted better performance.
Fast forward a few years and I relocated from Washington DC to Chicago, IL, and we were building a house. I had a company that did my basement and wired it for surround sound I was planning on running. At that time, I had the Eclipse Pro Series but decided I needed a subwoofer. I picked up an issue of Sound & Vision and saw the SVS 16-Ultra models. When it arrived on a pallet, I knew I was into something serious. After that, every chance I got, I started upgrading my system.
You have several rooms with AV gear in your home, what's the mentality behind having multiple surround sound systems in your home?
Well, I have a system in every room, including the guest room. Down in my man cave and my living room, there's a full 7.3 SVS Ultra system and I put that with Emotiva DR3 and XPA 5.
In the garage, I wanted a different experience, so I went with the Klipsch RF-7 and Parasound amplifiers out there with a total eight SVS subwoofers. I have dual SB16-Ultras and dual SB-4000s on this system. And then I have a separate music only system because I listen to custom-made CDs. I make my own CDs and a lot of it's like R&B but other music as well. That setup consists of a 4.4 music system with the SVS Ultra Bookshelves, Prime Pinnacles, dual 3000 Micro subwoofers in the near field and dual SB-000 subwoofers in the front stage. So, whatever I want to listen to, I want that experience, no matter where I am and they are all unique in some special way.
You've has quite the progression since the early days at SVS, what has been the impact from upgrading from some of those entry level system to what you have now?
I've really noticed much better clarity and a huge improvement in the dynamics of music and movies, too. I'm a firm believer that better speakers need better components to perform and right now that's what I've done with the SVS and how I power them. To tell you truth, when I first got the Towers, they're only 87db sensitive and my previous receiver just couldn't do them justice. So that's why I added external amplifiers and a processor because now they really open up.
When I have people over and I put on a movie like "The Accountant" or something with a lot of action, their jaws drop. It's like, wow, I mean, it's truly one of those things where if you have good components and you get it calibrated correctly, you can provide that jaw-dropping experience. That's what I would say has been the biggest impact. When people come over, I can give them that experience they've never had before.
If somebody was asking you for advice, is there an AV component that you would recommend not skimping on because it makes such a difference in performance?
Speakers, but I would also say calibration is underrated. To tell you the truth, when I first had the triple PC-4000, at first I was like, this is not impressive because it just didn't sound as good as the other SVS subwoofers I have. At first, I did it by ear but then I had it professionally calibrated with REW and added a mini DSP. Then, all of a sudden my system just came together and sounded like one. I could see on the graph that my three PC-4000s were cancelling each other out and once I fixed that, it was like a whole new world and the difference was huge.
Same thing out in the garage. I got two SB16s and two SB-4000s and when I put all of those in one system, it didn't sound good. I had it professionally, calibrated. Now, I have presets on my mini DSP remote for music, movies, and YouTube. And then I got one preset for extreme bass but I only use that one sparingly. It's ludicrous mode. I do a lot of entertaining and we love hanging out in the garage, and when people come over for fight parties and things like that, they are very impressed with the setup.
You mentioned fight parties, any experiences stand out?
Well, most times people have never seen SVS. When they come inside and they see the PC-4000, they have no idea what it is and are like, "What is that?" But then, when they sit down on the couch, and I put in a movie scene, they just turn around and look at them, because I got too near field, right behind the couch in the seating areas. And when they started to rumble, they look around and after feeling the rumble, it really opens them up to what home theater can be, and I love that.
Why are having these great systems important to you?
Well, I work hard and I play hard. When I get off of work, usually on Friday evening, I sit out and I want to decompress from the work week. Everybody's under a lot of pressure now with COVID and making numbers. So, when I come home, I want to be able to sit back and enjoy myself and, SVS has provided that. I can't complain. I love SVS. I mean, I'm running 12 subwoofers and I even have an SB-1000 in my bedroom. I don't mind paying for what I want. And SVS provides value performance. And they're aesthetically pleasing as long as long as you have that. I'm good.
Of all the SVS gear in your home, do you have a favorite model?
I love that SB16. They give me that authoritative bass. They're aesthetically pleasing and they have a smaller footprint. I had looked at the PB16, and you know for my space it just too big.
You're the moderator of a popular SVS Facebook group (SVS Sound Enthusiast Group), can you tell me why you took that role on?
I was asked and I knew it would be a great opportunity to share my experiences, especially with new members. A lot of people who are new to audio don't know what to buy or even what great subwoofers and speakers sound like. And I tell them, I can't tell you what your ears are going to like, but I can tell you what the sound of SVS is going to give you. Use a 45-day in-home free trials to see what it sounds like in your room with your ears, because that's the only way you're going to tell.
Is there anything else you want to share with the community?
I think everybody knows about SVS and the quality of customer service, and really, that's what's got me as a customer for life.
I remember when I used to run PC-2000s and I was moving one and I broke off the RCA inside the amplifier plate. I called up and told you guys what happened and without question, they offered to send me a new amplifier. And I was like, "Do I have to pay for this now?" And you guys just told me to send back the old one and I was good after that. It was like, you know what, they took care of me. So that's why I keep buying from you guys.
Browse Other SVS Featured Systems.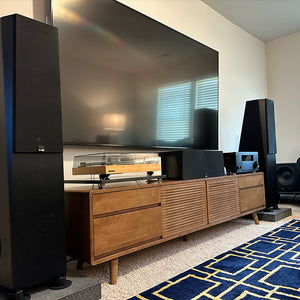 SVS Featured Home Theater: Dan C. from Cornelia, GA
Dan from Cornelia, GA Audio shows are the single best way t...
Read More