Featured Home Theater System: Michael W. in Westland, MI
Michael W.

in Westland, MI

A self-professed tinkerer with a love of music and great sound; Michael couldn't find the right AV stand to house his SVS Ultra speakers, dual SB-3000 subwoofers and other home theater gear, so he built his own. Already impressed with the clarity and room-energizing bass from his SVS gear, what surprised him most after installing them in the "steampunk" style AV stand were the lack of room rattle and other immediately noticeable sonic benefits. Read about his system's progression and his thoughts on the progression of high-performance audio since he first got into the hobby 20+ years ago.
The Setup:
Emotiva ERD-1 Surround Speakers
Denon X4400H AV Receiver
Emotiva XPA-2 and XPA-3 Amplifiers
Denon DP-400 TT with the Denon DL-160 cartridge with Mogami interconnects
Schiit Audio Mani Phono preamp
Schiit Audio Freya Tube amp
Schiit Audio Loki Equalizer
Monster HTS 1600 conditioner
Xfinity HDDVR
2 x Little Bear XLR switches
MonoPrice XLR cables
Questions And Answers:
When/why did you first start getting into high performance audio and home theater?
It really started for me in elementary and junior high school. I grew up in the Detroit area as a middle class and my Dad worked at one of the big three auto-makers. My parents always had nice stereos, nothing fancy, but pretty nice mid-tier stuff with separate record player, so I was always surrounded by high fidelity music. Eventually, I got rolling with my own gear with Sensui, Pioneer and Marantz included but after a few years, I enlisted in the military which got me away from the hobby for a while. After getting out a few years later, I started looking at whole home audio solutions and looking at all the online resources really lit the fire for me to build a 16 zone indoor/outdoor system speaker. I did make my stepson do the attic work… LOL! Seriously though, the gear these guys provided was the spark that redirected me to better sound. Not that I was not already heading that way, as I was, but installing that whole house audio system was a serious game changer. I had the "Voice of God" before he was so popular. I discovered SVS at that same time, and bought the PC13-Ultra… My step son has that now… He is very happy. ;-)
How did you first hear about SVS?
Roughly 15 years ago, I made the decision to build a 5.1 system and picked up a Denon receiver and moved up to Emotiva amplifiers. As I mentioned, my first taste of SVS was the 13-Ultra subwoofer, which completely changed my system's performance and got me really interested in SVS. What really got me hooked was how the performance for the price has evolved since I first started getting into audio. In the 70s and 80s, the cost of getting into HiFi was astronomical, and while the performance was strong, it just didn't make it possible for me or most other people. I've been into this for a long time and I can honestly say with brands like SVS, you're getting $10-20K sound quality for 1/10th of the price. It's really been a revelation as far as what you can get for the money compared to what was possible 20 years ago.
What was the impact of adding dual SB-3000 subwoofers and Ultra Bookshelf speakers to your system?
I actually started with dual PB-1000s and they hit as hard and clean as one would expect from a 10" subwoofer, but I felt like I wanted a bit more. I was looking at the PB-3000 but they would've been a tight fit. Plus, I listen to a lot more music than movies or TV so all the research pointed towards a sealed subwoofer. Honestly, I'll never go back to the ported models. The impact and precision of the SB-3000s is exactly what I was looking for and because of the 45-day trial, I was able to upgrade with no out of pocket cost, which was a huge factor in the decision.
Musically the SB-3000 subs and the Ultra Bookshelf speakers blend incredibly well together. The amount of depth and texture they pull out of music it's like they were meant to be together. The subwoofers are invisible and just doing their job, like they are supposed to with music, adding bass to the speakers and complementing the amazing clarity of the Ultra speakers with no distortion or boominess. Plus, there is no low frequency energy radiating through the floor or ceiling, the bass now radiates throughout the room, in the air, through the air. It is very smooth, and I now understand what it means when sound is described as "airy".
Tell us about the inspiration behind the custom-built AV stand.
Well, I actually started with a BDI AV stand but it wasn't big enough. I started browsing around ETSY and saw a few designs that looked cool and figured I could replicate to my own specs with black iron piping. I took some measurements and I had built furniture and cabinets previously so I knew a bit about woodworking already. I sketched a general idea of what I wanted and then just went to Home Dept to get all the parts and assembled it piece by piece in the living room. I even ran CL rated cables through the piping to make speaker runways and reduce cable clutter. The pressure gauges and valves were really just for style because I wanted to make it more visually interesting with a steampunk kind of vibe. Something with a sort of modern antique appearance that a woman could still appreciate.
Did you notice a change in performance after installing your speakers and subwoofers on the stand?
Before upgrading to SB-3000s, I had a pair of PB-1000 subwoofers, which sounded great but were transferring some of the bass through the floor and ceiling, which raced immediately into my kitchen cabinets and dining room light fixture. I installed the SVS SoundPath Isolation System and those did help, especially with the kitchen cabinet issue, but they were still rattling the dishes during more intense bass tracks. I figured ok, the feet are doing their job as best at possible and all in all I was very happy with the results. The feet were like 95% there, and I was happy to live it. This was before building the stand.
Then I built that stand, my neighbor came over and was checking out my work. The stand was too tall, he confirmed my thinking on that. Then he said, "Why don't you build stands for the subwoofers, bring them up off the floor to give the entire setup a cleaner look." I agreed, and went about building stands and shortening the actual AV rack/stand to its current dimensions.
That was really the game changer in all of this - the platform risers the SVS subwoofers sit on. Getting the subs up off the floor made an incredible difference in sound. I know it's not supposed to, but I can only tell you what I heard. They totally changed the room dynamics, as the flooring and surrounding knick knacks were quickly taken out of the picture. The subs lost some punch, but it was that bad punch that rattled the dishes in the kitchen through the floor and the light in the dining room. Now, it was more of a radiated punch throughout the room, that can be felt in your gut.
Musically, there was a dramatic improvement to the sound. The bass hit cleaner and just sounded better and truer to what the artist would want the music to sound I believe. Call it more natural, not so much mechanical and the sound was not being felt through the structure of the house. They will still rattle the dishes in the kitchen and the chandelier over the dining room table a bit, but I've come to accept that you can't completely bend the laws of physics to your will.
Why is having a home theater important to you?
I like tinkering, music and I like great sound, which is a perfect recipe for this entire project. It's affordable compared to some of the HiFi equipment out there, but with SVS, Emotiva and the other gear I've added, I believe I get 99% of the performance at a fraction of the price, which is fine with me.
Just being able to sit down and listen to music and hear every detail like you're in an intimate club or recording studio and not a massive stadium is important. I like a lot of the classic rock like the Rolling Stones and Muddy Waters, jazz, some old-school R&B. I will watch movies and TV, but I'm definitely way more into music. 98% of my listening is done via streaming Tidal, Spotify and Amazon Prime Music and the sound quality is good for me.
Anything else you'd like to share with the SVS community?
I believe that the room and the construction of the actual house plays quite a bit into this. This house is built like a giant speaker box, darn near air tight, with 7/8" MDF subfloor under the wood plank floor. The interior walls that contact the exterior are heavily insulated with 3/4" drywall and 3/8' T&G seamless wood or ply paneling. There are also numerous steel girders running both the length and width of the house, so I know the construction plays quite a bit into what we are hearing with this system. This is not your typical stick built home and I am having some fun with it.
The last thing I will say is that I really like the direct sales model and cutting the middle man out. I like choosing what's best based on my own research and not because of what a salesman recommends. Plus, I firmly believe it's driven the cost of getting into high-performance audio down, which is good for all of us, so I give props to SVS for helping change things.
Browse Other SVS Featured Systems.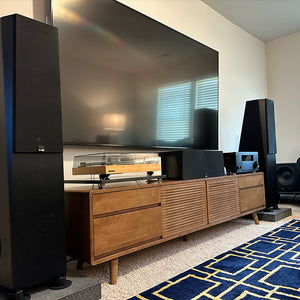 SVS Featured Home Theater: Dan C. from Cornelia, GA
Dan from Cornelia, GA Audio shows are the single best way t...
Read More