SVS Featured Home Theater System | Joe T. from Nashville, TN
Joe

from Nashville, TN

One of the great joys of upgrading home audio gear is the chance to re-listen to old albums and songs and find a new appreciation for the nuance and artistry. After his upgrade to all-SVS speakers and subwoofers, Joe from Music City (Nashville) lived this experience, noting, "Listening to albums/songs I have listened to 100s of times before sounded fresh and very clear. I just couldn't believe what I was hearing. So many elements came forward that were otherwise buried in the mix."

Learn more about Joe's journey to SVS, including the challenges he overcame, his favorite content for showing off the systems, and how the only thing that rivaled audio performance was his experience with the SVS support team.
The Setup:
Emotiva BasX A3 Amplifier
Marantz Cinema 70s processor
Audio-Technica AT-LP120
Oppo BDP-105D
Sony UBP-X800M2
AppleTV 4K
Stereo System Setup #2
Questions And Answers:
Why is having a high-performance home theater/audio system important to you?
Music listening [specifically critical listening] has always been something I enjoy doing. Revisiting favorite albums/artists/genres over my lifetime [and sometimes earlier] brings me tremendous joy. Being able to listen to them on a high-performance system brings them back to life and just sounds fantastic.
How did you discover SVS?
I have been interested in music listening for most of my life [especially critical listening of music]. However, having a family limited me in both time and finances. About 5 years ago, I was able to break out my old Polk Audio speakers and purchase a Yamaha AV receiver. This resumed my love for all things audio but I still had limited time to invest in the hobby. I always wanted to replace those old Polks with something else – something better.
Fast forward to Fall 2022 where I found that I had the time and the finances to dig deeper into finding a better system for my music listening. After many hours on YouTube, I narrowed my interests to 3-4 speaker manufactures and a few for receivers/amplifiers. SVS came up in some of the videos – I was thinking…..who is this SVS company? LOL. So I purchased the Prime Bookshelf speakers + the Ultra bookshelf speakers along with others [Monitor Audio, JBL, KEF, etc] for sound testing. The Ultra bookshelves after some time really settled down and sounded wonderful. I figured I didn't need the Prime's so I had them returned.
Fast forward again, SVS announced the SoundBase Pro. At this time I was trying out all different equipment and determining what I should use for a second listening room plus remaining speakers for a home theater setup. Without going into all the details, I ended up purchasing the SoundBase Pro which sounded great paired with the SVS Ultra's. Many of the other manufactures sounded good but I found that I kept comparing them all to the SVS Ultras. So now I wondered if I should have kept the prime bookshelves. Hmmm. So after many hours of testing/listening I decided that I would go with all SVS speakers for my home theater and 2nd listening room.
What were your impressions after getting all the speakers and subwoofers dialed in?
I purchased the Ultra Bookshelf and Center speakers for LCR, Prime Bookshelf for surrounds & Elevations for front upward atmos. Listening to albums/songs I have listened to 100s of times before sounded fresh and very clear that I just couldn't believe what I was hearing. So many elements came forward that were otherwise buried in the mix. Additionally, the speakers sounded "natural" especially when I compared them to other speakers of similar specs. Soundstage, warmth, and clarity were all there – plus they looked so darn good with the piano black finish.
WOW! The soundscape was incredible. I couldn't believe what I was hearing. So much familiar music suddenly sounded much MUCH better. It truly made me want to listen to music more and more. I began inundating my wife with all the things I learned and was hearing. She decided to check out the speakers in the home theater room and had the same reaction I did when watching movies. Our whole perspective on audio listening had been forever altered. LOL.
What are some of your favorite albums/music or movies/shows for experiencing immersive sound?
For movies, Downton Abbey, Marvel MCU [Doctor Strange, Captain America, Avengers], Indiana Jones, Lord Of The Rings & The Hobbit – absolutely fantastic! For music, most anything remixed by Steven Wilson [ELP, Yes, etc]. Bands specifically – Yes, Rush, Chicago, Genesis, Pink Floyd, The Pineapple Thief, The Who, ELP, Jethro Tull, Opeth, Porcupine Tree, Riverside, King Crimson. Streaming shows – Disney+ shows like the Mandalorian, Obi-Wan.
Why is having a subwoofer important and what did it add compared to your previous system?
My previous subwoofer was 10 inch/100w. The SVS SB-1000 Pro is MUCH better with blending in with the rest of the speakers [almost to the point where it disappears but in a good way]. The new SVS sub sounds so natural and compliments everything else just wonderfully.
What was the greatest challenge with building your system and how did you overcome?
Greatest challenge was finding a good amp & processor to compliment the SVS system as I tend to listen to more music than watch movies. After trying a few out, I found the Marantz to be a perfect match with my SVS system. To help with increased/dedicated power, I added an Emotiva BasX 3 amplifier to round things out nicely for my room.
Anything else you'd like to share with the SVS community?
While I was completely blown away by the performance of the SVS speakers, I was totally surprised at how great the customer support team would be. My experience with SVS support has been nothing short of wonderful and still continues to be. Always helpful, friendly and knowledgeable. It just reassures me that I went with the right company for my audio needs. EVERY experience I had with support was STELLAR. I was blown away again. So thank you Gary for the team of people you have working for you, for the engineers behind the speaker designs!
Browse Other SVS Featured Systems.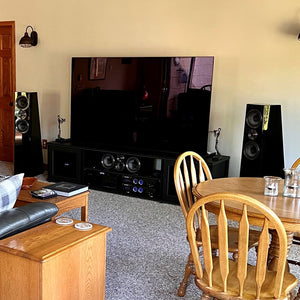 SVS Featured Home Theater System | Mike E. from Calumet, MI
Mike from Calumet, MI As a former music teacher, Mike E. fr...
Read More