SVS Featured Home Theater System: Steve S. from San Antonio, TX
Steve S.

from San Antonio, TX

This is a follow-up to a previous SVS featured home theater. Steve's original profile can be found here.

When a promotion lead Steve S. to move from Chicago to San Antonio, he packed up his existing SVS gear and settled into a temporary apartment while scouting the perfect house. The speakers didn't stay boxed up for long. In the new apartment, he had a lot to consider with new neighbors, different room dimensions, and more, but still used the opportunity to revamp his home theater.

Steve went all out on a PB16-Ultra subwoofer for maximum sonic impact and added Prime Elevation Atmos speakers to better fill the room with three-dimensional sound. He also assembled a Prime Wireless 2.1 Powered Speaker and 3000 Micro subwoofer desktop stereo system for nearfield listening to use when gaming, working, and playing music. With two unique systems, he can better cater his listening to his lifestyle.
The Setup:
Monolith stands for the rears (needed more height)
LG "65 OLED B9
VTI racking
Marantz SR7015
Panamax m5400
Sony 1100es media player
PS4
AC Infinity T8 Amp fan
Valencia Tuscany Console Seating
Logitech Harmony Elite Remote w/ hub
Samsung 49" Ultrawide Monitor
XGamerPC CPU
Razer keyboard, mouse, mouse pad, cam, and mic
Hithdesc Height Adjustable Desk
Philips Hue, Razer, and Corsair LEDs
All Amazon Alexa controlled
Questions And Answers:
What are the biggest upgrades to your system and experience since we last spoke?
Since we've last spoke I have accepted a promotion and moved to San Antonio from Chicago. Not wanting to purchase a home sight unseen, I have since rented an apartment short term. Fitting a HT into an apartment has been a challenge. Since the last feature, I have upgraded the surround speakers to SVS Ultras, added 4 Prime Elevations for Atmos, upgraded my AV Receiver, and went through almost every subwoofer you guys offer utilizing your awesome Customer Bill of Rights, finally settling on your PB16-Ultra.
How has the PB16-Ultra impact performance?
The PB16 is a beast. NO QUESTION. The fullness and depths it can achieve is remarkable. The most common question I get is how I can get away with having such a large Sub in an apartment. Well, the answer is discipline. I specifically chose this apartment location with the home theater in mind. Proximity to my neighbors, exit stairwells, top floor, etc. Oh, and make friends with your neighbors!!! :) Even with all that, you cannot go crazy for long durations. But, even at moderate volumes the PB16 and the whole SVS setup can provide an awesome HT experience that envelops you.
You've since added a secondary desktop system. Please tell us about how you are using it and why you decided for a dedicated CPU system.
I have. I recently upgraded my whole CPU rig. I love sound and figured I'd try out your Prime Wireless and pair it with a 3000 Micro Sub for nearfield listening at my rig. And WOW, it sounds amazing. I spend a lot of time at my Desktop for work, Youtube, gaming, etc and having these truly rock! It adds a new dimension to my space without having to utilize my main setup. It was exactly what my desktop experience needed. I highly recommend this combo for nearfield.
Anything else you'd like to share with the SVS community?
SVS is a great company to work with. Their customer service is second to none and their Bill of Rights allow the consumer to try out certain setups to see what works and doesn't. My advice is try certain combinations out. SVS offers such a wide variety of products that eventually you will land on a combo that suits your needs and then some.
Browse Other SVS Featured Systems.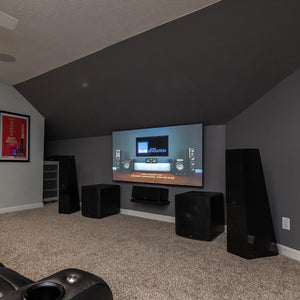 SVS Featured Home Theater: Kyle H. from Madison, MS
Kyle from Madison, MS Kyle from Mississippi has been on a j...
Read More